World's Talented 3D Artists Visit Binance Smart Chain
3 min read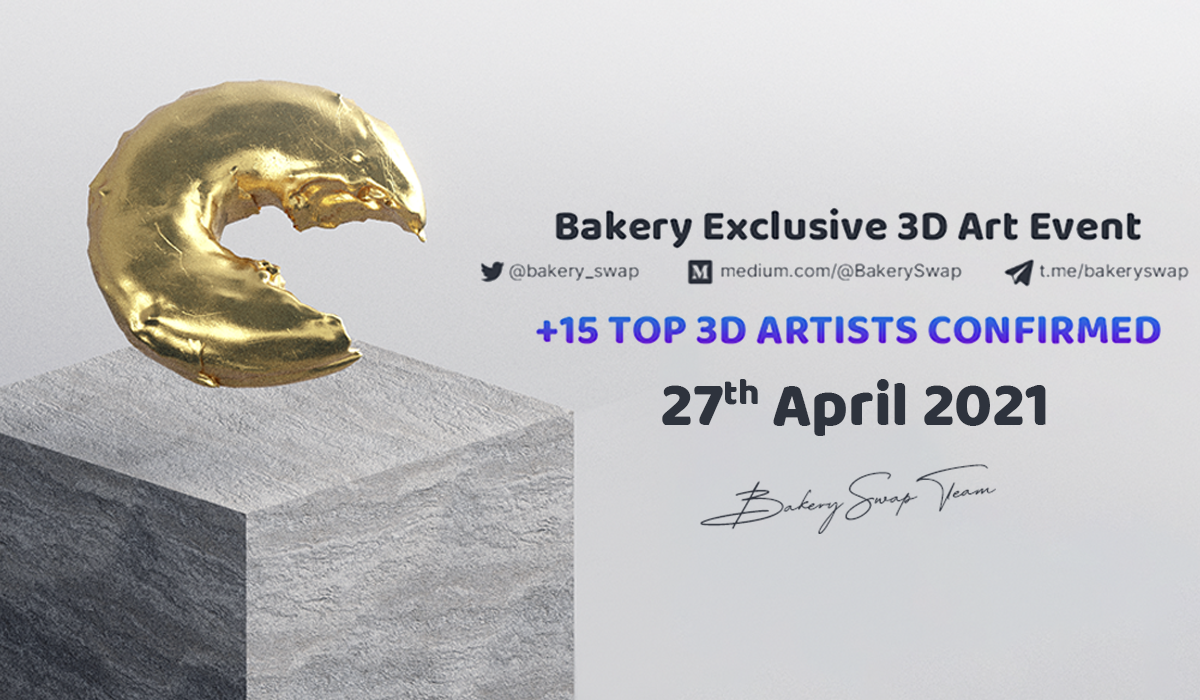 BakerySwap, the leading NFT Marketplace on BSC, will host an exclusive 3D NFT drop with a selection of the most talented 3D artists from around the globe.
These top artists have been involved in projects for Netflix, Nike, Chanel, Apple, or hot musicians like Bad Bunny, Lil Uzi, and Young Thug. This exclusive event will take place on April 27 at BakerySwap's platform. This initiative will bring the highest quality art to Binance Smart Chain for the first time, rivaling with top ETH platforms. 
BakerySwap will launch also on April 27 a new rebranded and separate site, "Bakery NFT Gallery", to host curated exhibitions, and complementing their current "open" art NFT Marketplace.  
On April 19, 2021, BakerySwap will host an exclusive 3D NFT drop, a first-time on Binance Smart Chain. In this event will participate 16 verified 3D artists. The selection of whom has been done by prestigious art curators in the 3D industry. The most talented 3D artists of the world, such as NudeRobot, Nes100, Accard, Grolar, or CarlosTV, will share an exhibition at BakerySwap.
In this drop, the main object that all artists are going to base their artistic interpretations on, will be a Doughnut. Each artist will prepare a piece, including still shots or animations. All the artworks will include security items including special codes and anti-copy features, to bring more value added to collectors.
The exhibition will open doors on April 27 and will be Auction based.
NFTs are digital assets recorded on blockchain that represent a wide range of tangible and intangible items, from collectibles, sports cards, to virtual real estate and a whole lot of other things. An NFT is essentially a digital signature backed by blockchain technology.
Anything can be "tokenized" with NFTs, to create a digital certificate of ownership that can be bought and sold. With Mike Winkelmann, popularly known as Beeple selling one of his NFTs for a record-breaking $69.3 million, NFTs have taken the entire crypto ecosystem by storm.
BakerySwap is committed to bring the best artists to Binance Smart Chain. They firmly believe that by increasing the art quality of both, their platform and Binance Smart Chain, they will be able to attract more sophisticated collectors and investors, and benefit the whole art community. That's why Bakery is launching a new curated site, exclusive for top talented artists, to bring more collectible and investor value to BSC.
Watch the promotional video here.
About BSC
Binance Smart Chain, a parallel blockchain to the Binance Chain provides a powerful ecosystem for decentralized finance. Unlike Binance Chain, BSC boasts smart contract functionality and compatibility with the ETH Virtual Machine (EVM)
Binance Smart Chain remains committed to lower fees compared to its ETH peers, where sometimes, gas fees are above the artworks' prices.
About BakerySwap
BakerySwap, the first AMM + NFT Exchange, is the all-in-one DeFi platform on Binance Smart Chain. Bakery aims to be the reference place for all DeFi user needs, by providing three main services: The AMM (Automatic Market Maker) where users can exchange tokens, stake them, or farm liquidity, and currently holds more than $190M in liquidity.
The NFT Marketplace, which allows participants to mint or trade artworks and other gamified NFT, providing key features, like bidding or auction. More than +220,000 NFT transactions and +70,000 mintings strengthen their leading position. And finally, the Launchpad, that provides initial coin offerings from selected quality projects to early investors.
The post World's Talented 3D Artists Visit Binance Smart Chain appeared first on BeInCrypto.