YoBit.net Virtual Mining Review: How Much You Can Realistically Earn From VMining?
4 min read
Think it's already too late to get into crypto mining in 2020 without digging a hole in your pocket?
Well, not for sure! Not unless you are only interested in those ultra-expensive brick-and-mortar mining setups that can't go without heavy investments in infrastructure, mining rigs, energy, and other associated costs.
But, none of those counts as an issue if you consider virtual mining.
Why Virtual Mining?
For starters, virtual mining is much more affordable as compared to purchasing a mining rig, as well as the hefty operational expenses that follow thereafter.
Virtual Mining is also convenient for pretty much anybody who can operate a smartphone or a computer. No high-level technical expertise is required.
Most importantly, Virtual Mining is a proven way to earn sizable passive income, provided you use the right platform.
Note, however, that the last bit is crucial given that there are many shady cloud mining platforms out there that would promise you hefty returns, but without having much to show for it.
This is where an established cryptocurrency exchange like YoBit.net can make a difference.
YoBit VMining: An Overview
YoBit officially launched its virtual mining platform, YoBit VMining, in September 2020. As you can see for yourself on the official VMining page, the platform is offering a wide range of options to choose from depending on your budget.
VMining Profitability
From Micro 2 to VIP 2, there are six different types of YoBit Vminers currently available on the platform.
The promised daily returns go progressively higher as you move up from one variant to the next. For example, the expected monthly return from the Light 2 variant is somewhere around $1,274, whereas the corresponding figure for the next higher version (Standard 2) can go as high as $7,000.
Of course, the dollar-equivalence of the daily or monthly return depends on the Bitcoin price at the time
The highest variant (VIP2), meanwhile, promises a daily return of $3,083 and a monthly return of more than $95,000 based on the current BTC/USD exchange rate.
All payments are made daily using YoBit's homegrown MINEX token. This way, you can rake in revenue every 24 hours in MINEX, which you can then convert to Bitcoin using the MINEX/BTC trading pair.
Judging by the level of community participation and feedback, YoBit VMiners seem to be building a decent user-base already. This is evident from a growing number of users who are now sharing proofs of their earnings on various mining-related online forums. Some of them are raking in sizable profits from their YoBit VMining setups.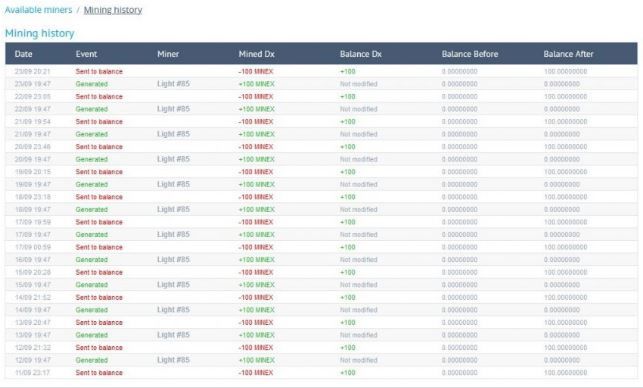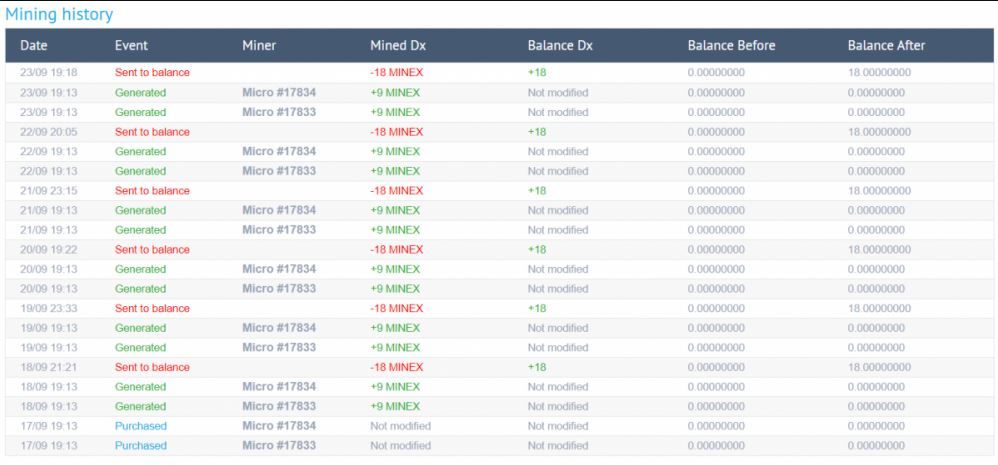 VMining Cost
The most affordable YoBit Vimner will cost you 0.01 BTC. At the current BTC/USD exchange rate, YoBit claims that you will reach the break-even cost within only 2 – 2.5 months. After that, every MINEX token you earn is a net profit.
The highest variant will cost you 4.99 BTC as of press time, but YoBit promises that with a daily earning of approximately $3083, you will have to mine for less than a month to get to the break-even cost.
Visit the official VMiner page for the current pricing of each VMiner variant.
Why YoBit VMining?
For starters, YoBit is one of the oldest cryptocurrency exchanges still around. Launched in 2014, it has built itself a sizable user-base over the past six years and a daily transaction volume of more than $50 million, according to CoinMarketCap.
That gives it some legitimate reputation as a self-sustaining platform with a verifiable track record.
Other perks of the YoBit VMining include:
Ease-of-Use: It is incredibly easy to purchase a VMiner and make it operational. Just a few clicks of the mouse and you're good to go.
Minimal human intervention: With VMining, you do not even have to choose which currency to mine. YoBit promises that the miner will do it for you based on a handful of AI-guided metrics.
Affordability: Starting from 0.01 BTC for the base variant to 4.99 BTC for the top-variant, there's one VMiner in every price range. You only have to choose the one that fits your budget.
Daily Payout: You do not have to wait any longer than 24 hours to have your earnings deposited in your wallet.
MINEX Token: You earn your daily earnings in MINEX token, which is growing in value over time. You can also choose to convert your MINEX tokens into BTC if you would rather prefer to have your earnings in BTC.
YoBit VMining: Largely Positive Reviews
YoBit seems to have scored a fair amount of praise for its virtual mining platform. Reviews from experts and users have generally put VMining in a positive light. We have shared a few YouTube video reviews below just in case you would like to hear more about YoBit VMining from other reviewers.
In conclusion, it's safe to say that if you want to get into virtual mining as an alternative avenue for supplementary income, YoBit VMining is a decent platform to get started. It's relatively safer, and much more affordable compared to most other cloud mining platforms. But more importantly, there are actual users who are willing to vouch that they are indeed raking in sizable profits from their VMining setups.
You can register on YoBit VMining for an up-close look at the platform or to purchase your first VMiner.
The post YoBit.net Virtual Mining Review: How Much You Can Realistically Earn From VMining? appeared first on BeInCrypto.