6 Best Kodi TV Shows Addons in 2021
9 min read
When watching TV shows, you want access to entire seasons – letting you watch everything in one go. Well, with that said, know that Kodi can meet your needs easily, as we're here to point you in the right direction. So, let's talk about the best Kodi addons for TV shows in 2021.
Know that we've done the hard work of testing countless Kodi addons, checking their content – and their functionality as well. With that said, we have found a group of addons that we believe will meet your needs. And yes, all of those are dedicated to hosting and streaming a huge number of both newly-released and classic TV shows.
We'd also like to say that the majority of the following add-ons come free-of-charge, which is yet another benefit that Kodi offers. And also, by integrating third-party services with Kodi, you can build a sizeable library of TV shows – without taking any space on your device's storage.
How to Find & Install TV Shows Addons on Kodi?
Adding new addons to Kodi is easy – especially if you have someone to guide you. That's why were are here, so check below for our step-by-step installation guide.
Open Kodi and navigate to 'Add-ons' (using the main menu).
Click on 'Download' and make sure to select 'Video Add-ons.'
Then, select the add-on you want to install (such as iPlayer WWW, Comedy Central, Crackle, Popcornflix, or YouTube). This will open the addon's overview.
Finalize the procedure by clicking on 'Install' (in the bottom-right corner).
Lastly, return to Kodi's 'Add-ons' section and open the newly installed addon. That's it!
We made sure to give you a quick and helpful guide to installing addons from Kodi's official repository. To take a much deeper look, make sure to click on the provided link – and you'll find more in-depth information along with screenshots.
What Are the Best-Working Kodi Addons for TV Shows in 2021?
After plenty of testing and binge-watching, we've found the following six addons to be the best addons for watching TV shows via Kodi. Take a look just below.
Netflix (Compatible with Kodi 19)
iPlayer WWW
Comedy Central
Crackle (Compatible with Kodi 19)
Popcornflix (Compatible with Kodi 19)
YouTube (Compatible with Kodi 19)
In this article, we are talking about Kodi and this application's official and unofficial addons – all of which are based on open-source code. Addons for Kodi can come from the official source (you can install them via Kodi itself), or they can be hosted by third-party sources (such as GitHub, for example). In addition, Kodi and its addons are publicly available and free of charge.
TechNadu doesn't claim any responsibility for how our readers decide to utilize the following software. Please note that we don't condone sharing pirated content and copyright infringement. TechNadu is not affiliated with the software mentioned in this article in no way.
Make sure to carefully read everything said in this disclaimer and ensure the proper use of the software.
Disclaimer
Read This Before Installing Kodi Addons on Your Device!
Do you think it's legal and safe to install third-party Kodi addons on your device? ABSOLUTELY NOT – and here's why!
Third-party Kodi addons are often referred to as 'unofficial' or 'illegal Kodi addons.' That's because they let you stream copyrighted content from illegal sources like torrent (P2P) repositories and other websites, which aren't generally safe, to be honest.
So, what will happen if you don't act cautiously? Well, you'll expose yourself to criminal prosecution, often leading to huge fines – once your ISP collects enough data about your online activities. We've seen that happen many times before.
That's the reason why we don't recommend installing third-party Kodi addons.
No matter if you use official or unofficial Kodi addons, keep in mind that Kodi can be safely accessed using a VPN. Connect to a VPN, and you'll be safe online, no matter what. Simple as that.
A VPN can help you do the following five things:
Hide your IP address, while keeping you anonymous while streaming via Kodi.
Keep you safe from legal troubles.
Fight against ISP-imposed throttling.
Unblock all kinds of geo-restricted Kodi addons in your country.
Bypass sports-related blackouts.
For more details, please read this guide.
After testing over sixty VPNs hands-on, we conclude that ExpressVPN is the #1-rated VPN for Kodi. If you are interested, please read our ExpressVPN review. Also, if you decide to subscribe, grab this limited time deal – save 49% + get 3 extra months FREE.
1. Netflix
Without any doubt, Netflix is among the most popular media streaming services in the world. It comes with a huge and ever-growing library of movies and TV shows – and all of these can be accessed via Kodi as well.
This is also the reason why we've featured the Netflix Kodi addon in our article on the best Kodi addons (overall). If you're a subscriber to this streaming service, you'll most definitely want to integrate it with Kodi, accessing a treasure trove of content.
Lastly, keep in mind that you need to have Netflix credentials ready before you start using this addon. In other words, this isn't an official Netflix addon for Kodi (it's unofficial, but it works without a hitch), and you can't subscribe from this application.
2. iPlayer WWW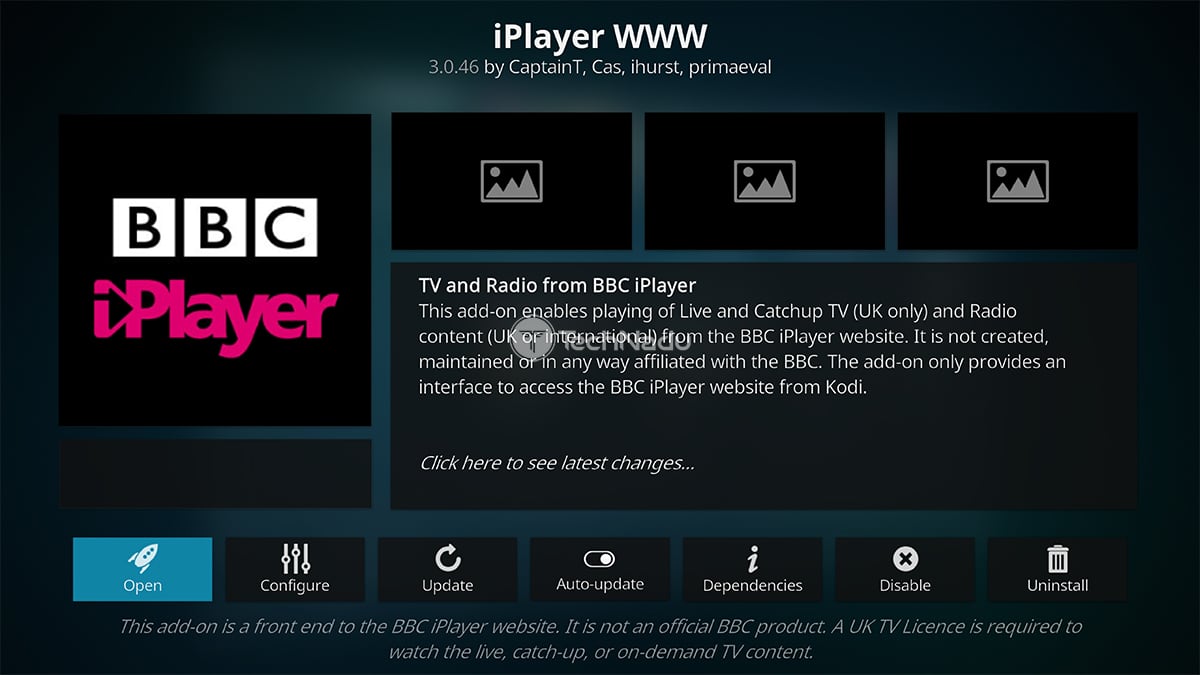 Next, we have an addon that serves content produced by the BBC. In case you didn't know, we're talking about numerous movies and TV shows that populate IMDb's 'Top 100' Lists.
However, what's interesting to mention is the fact that this broadcaster has decided to offer plenty of its content completely free of charge – and this is where BBC's iPlayer comes into play. And the best thing is that you can use it on Kodi as well!
You must be wondering what you can find here? Well, you'll find Doctor Who, EastEnders, Call the Midwife, Death in Paradise, MasterChef, and plenty more.
Besides award-winning TV shows, the BBC's iPlayer comes with tons of documentaries and movies (including plenty of Hollywood blockbusters). So, without any doubt, this is one of the best Kodi addons for TV shows right now. Make sure to try it out.
3. Comedy Central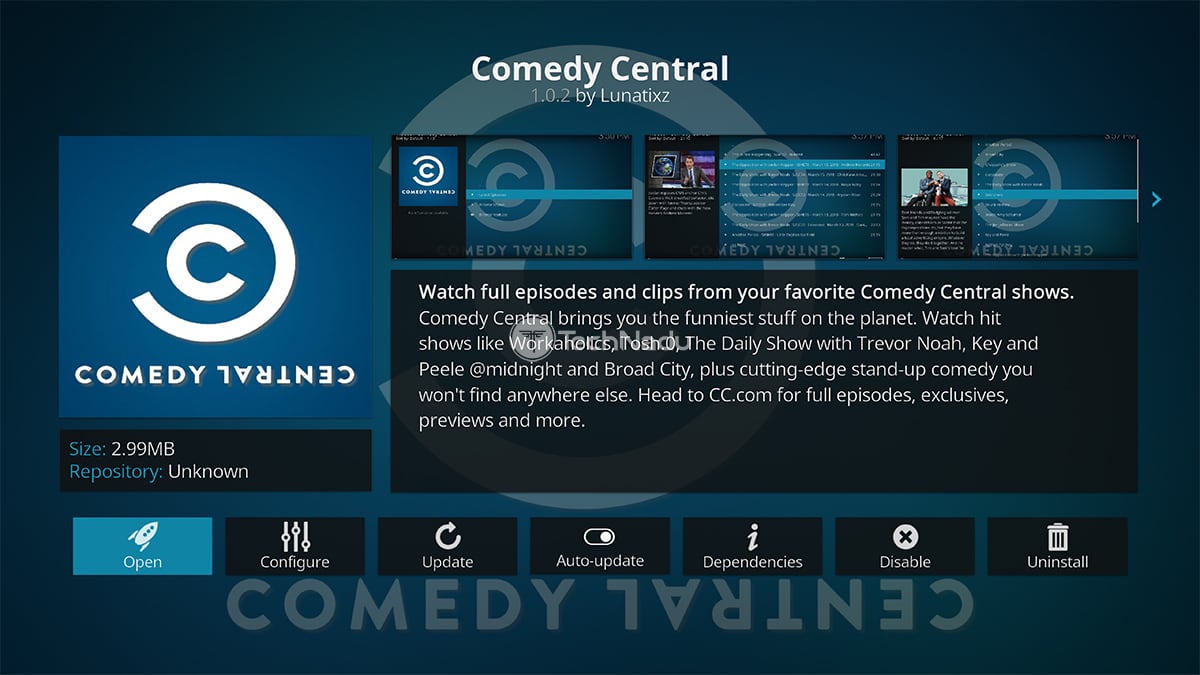 Next, we have another free-of-charge Kodi addon. Don't worry, we understand that many of you want to keep your budget under control, and Kodi can help you with this.
There are plenty of addons that come from various TV networks, serving the latest seasons of their TV shows. Once such addon comes from Comedy Central – and it's one of the most content-rich ones.
This addon pulls its content from the Comedy Central website, where you can find clips, individual episodes, and full seasons of TV shows. We're talking about titles such as Broad City, Awkwafina is Nora From Queens, The Daily Show with Trevor Noah, Inside Amy Schumer, and plenty more.
You can watch episodes as they come, and there's an option to watch entire past seasons of some TV shows as well.
4. Crackle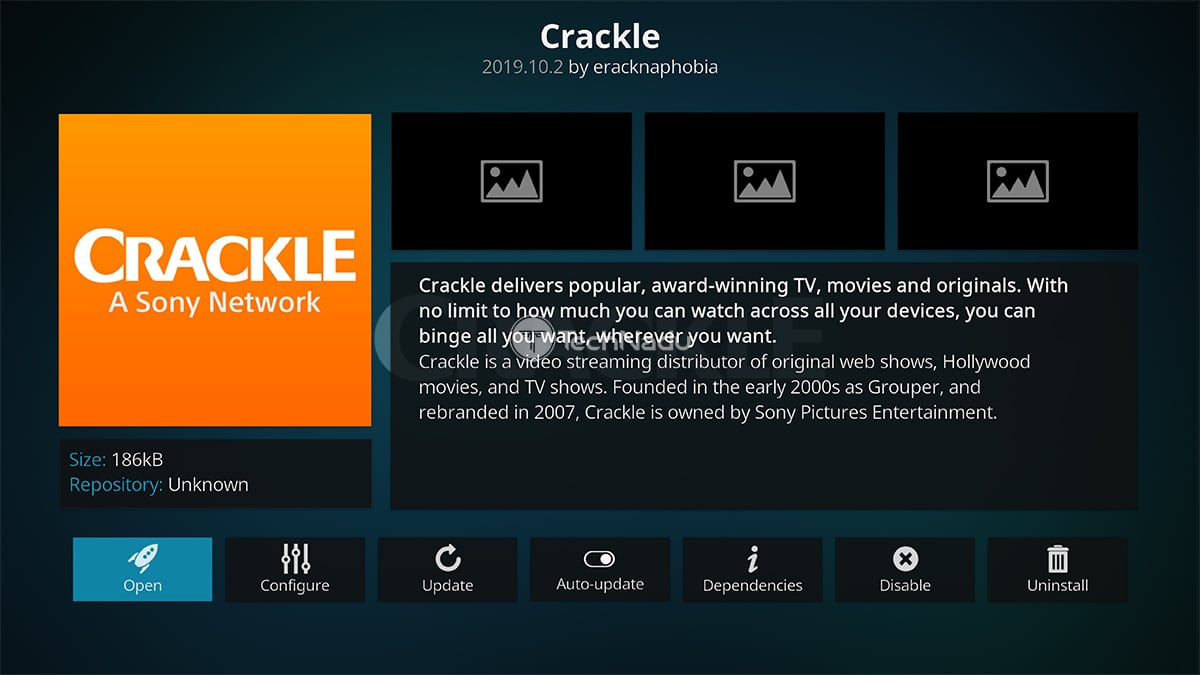 Now owned by Sony, Crackle is perhaps the most popular free streaming platform. As you can imagine, we're not exactly talking about the latest titles, but Crackle has managed to create a library of numerous attractive options nonetheless.
In terms of the available TV shows, you can watch NewsRadio, Happy Endings, Firefly, Mad About You, The Tick, The Shield, and plenty more. Many of these are high-rated TV shows, and you won't make a mistake if you decide to watch them.
To use Crackle on Kodi, all you need is the platform's official addon. So, go ahead and visit Kodi's official repository (by going to Add-Ons > Downloads) or search for the addon from Kodi's home screen. Either way, you can install and start using Crackle in a matter of minutes.
5. Popcornflix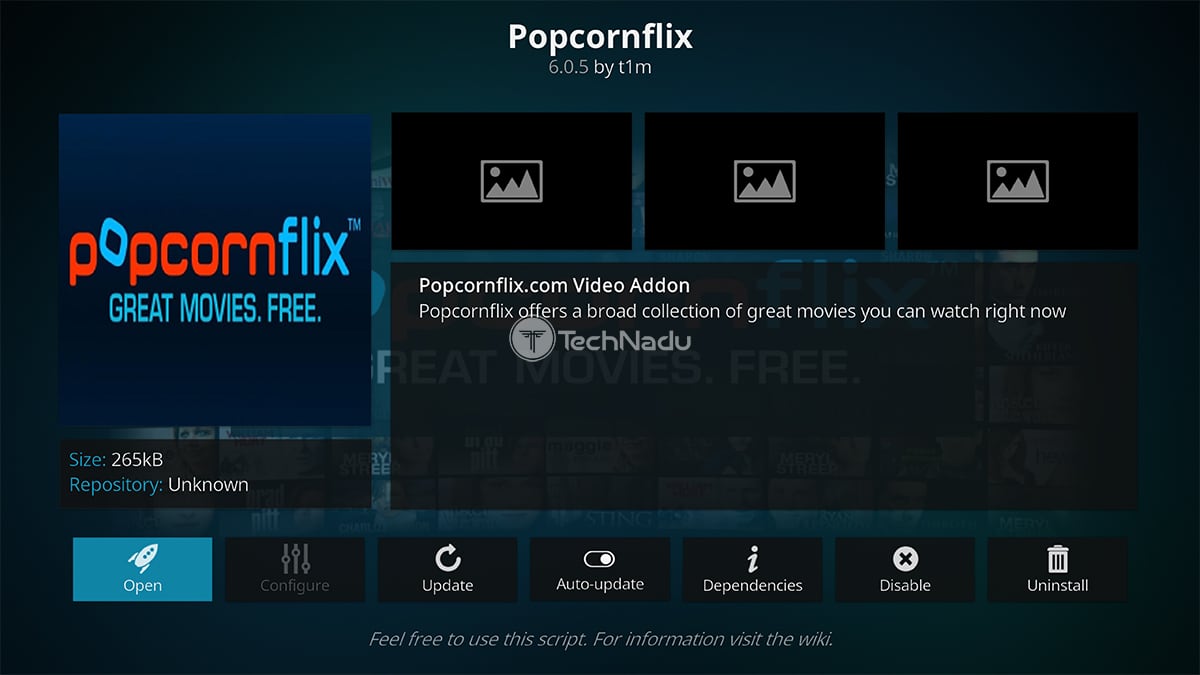 Here we have another popular streaming service, also available for free. Popcornflix has been around for close to a decade, and it managed to grow into a highly popular platform.
However, we have to admit – this one puts movies first. Nevertheless, that doesn't mean you won't find plenty of TV shows. Titles such as Animal Tales, Kitchen Nightmares, Hell's Kitchen, Queer as Folk, Hunter, and Penance give you a taste of what to expect.
The Popcornflix addon on Kodi works like a charm. Download the addon from Kodi's official repository, and you can use it even without having an account. It allows you to check numerous categories, the latest titles, the most popular titles, and plenty more.
6. YouTube
The final option on our list is none other than YouTube. Yes, this media streaming service comes with a fully-working Kodi addon where you can use your account as well.
That means you can transfer your lists of YouTube favorites to Kodi and then keep track of everything that's new on those channels. You can even watch live streams.
It's a known fact that several TV networks use YouTube to host their TV shows and individual episodes. Besides, you can always count on an endless array of videos by numerous YouTube creators, many of which have produced interesting Web-hosted TV shows.
Tip
Even though you can access YouTube from anywhere, this platform isn't the same in all its supported countries. To access everything YouTube offers, you'll need a VPN. With that said, learn more about the best VPNs for YouTube.
TV Show Kodi Addons Not Working? Here's What to Do!
Kodi is a complex application, so it doesn't come as a surprise that something can go wrong on occasion. With that said, if you see any errors when trying to install Kodi addons for watching TV shows, try the following.
When it comes to error messages such as "Check the log for more information" or "Something went wrong," you'll want to remove Kodi's cache data. This is a harmless procedure and can speed up your Kodi, especially if you never deleted its cache before.
Then, you might see error messages like "Failed to install a dependency." This error indicates that a dependency was found to be faulty, preventing the addon's installation. There are several things to do in this case, as explained in our guide to resolving Kodi's dependency error messages.
Just recently, many Kodi users have started seeing the "This add-on is not compatible with this version of Kodi" error message. Keep in mind that Kodi 19 users are primarily affected, as many addons still don't work with this version of Kodi. So, remain on Kodi 18.9 for now.
We also recommend keeping your Kodi updated. However, you'll want to update to Kodi 18.9 for now, at least until more addons are made ready for the latest version of Kodi (v19).
For additional solutions, turn to our hands-on guide to troubleshooting Kodi. And in case you encounter performance-related issues, check how to stop Kodi's buffering issues.
Which Kodi Addons for TV Shows No Longer Work – or Have Shut Down Permanently?
Just like it often happens with "unofficial" Kodi addons, many previously popular Kodi addons for TV shows are no longer operational. Here are the names of those addons.
Incursion
Exodus (the original version)
Ghost
Chronos
Maverick
Deceit
13 Clowns
Phoenix
Phoenix Rising
Entertainment Time
Entertain Me
Watch Dogs
Tip
If you want to avoid wasting time on non-working addons, you'll need a trustworthy guide. With that said, we recommend our central overview of the 60+ best Kodi addons in 2021.
Aside from that, we also recommend our overview of the best repositories for Kodi (where you'll find nothing but legal and safe addons). And lastly, why not check the best Kodi skins as well?
This is where we conclude our list of the best TV show Kodi addons in 2021. If you think we missed something, make sure to drop us a comment below. And if you'd like to keep exploring more about Kodi, the provided link will take you to our freshest articles. Thanks for reading – and enjoy using Kodi!