Another nearly $ 2 billion in stablecoins has been trasferred to the exchanges, what does that mean?
2 min read
The total reserves of stablecoins on exchanges reached ATH almost 20 billion dollars. What does CryptoQuant CEO say?
Stablecoins remain the most traded assets in the crypto market. Recent data from analyst firm CryptoQuant shows that more of those nearly $ 2 billion in tokens have recently been moved to exchanges. According to Ki Young Ju, CEO of CryptoQuant, these huge deposits are in fact a bullish sign.
Ju he noted that most cryptocurrency trading platforms usually replenish reserves so that users can buy various coins, as traders prefer to purchase these assets using stablecoins rather than Fiat currencies. He added that exchanges sometimes hold large reserves of stablecoins to process users' withdrawal requests during high market volatility.
People convert fiat money into cryptocurrencies
No matter what the reason for the rising tide, Ju believes that the high demand for stablecoins and their reserves on exchanges is bullish in the long run, as "fiat is converting to cryptocurrencies."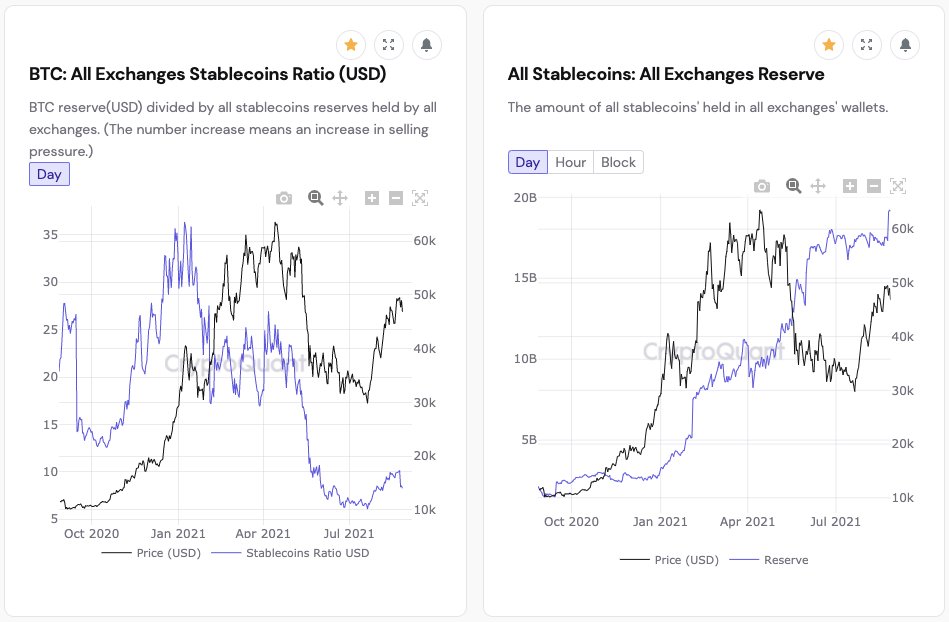 Jua's view of the growing use of stablecoins for cryptocurrency purchases correlates with what is happening in many countries around the world, as demand for fiat there is declining.
For example, people living in countries with unstable economies such as Argentina, Brazil and Nigeria are increasingly choosing to keep their savings in stablecoins covered by a stronger currency such as the US dollar to protect themselves from the imminent financial crisis.
In total, there are now almost $ 20 billion in stablecoins on the exchanges
After adding $ 1.7 billion to the existing volume of stablecoins on exchanges, the total volume across global cryptocurrency trading platforms reached a new all-time high (ATH) of $ 19.23 billion.
The inflow of stablecoins has increased by more than 500% since the beginning of the year. The massive year-on-year increase is probably due to the recent growing interest in cryptocurrencies.
USDT and USDC in the top ten largest coins
Meanwhile, the data show that the two largest stablecoins – Tether (USDT) and USD Coin (USDC) – are in the top ten rankings of the world's largest cryptocurrencies by market capitalization.
While the USDT, which has a market capitalization of $ 65 billion, is in fifth place, the USDC is in eighth position with a market capitalization of $ 27 billion.
Top alternative exchanges for Binance without KYC verification