Axie Infinitу – the most promising game token
2 min read
The host of the popular cryptocurrency channel Coin Bureau wondered if the token of the popular online game Axie Infinity (AXS) could have done even better after flying to stunning heights this year.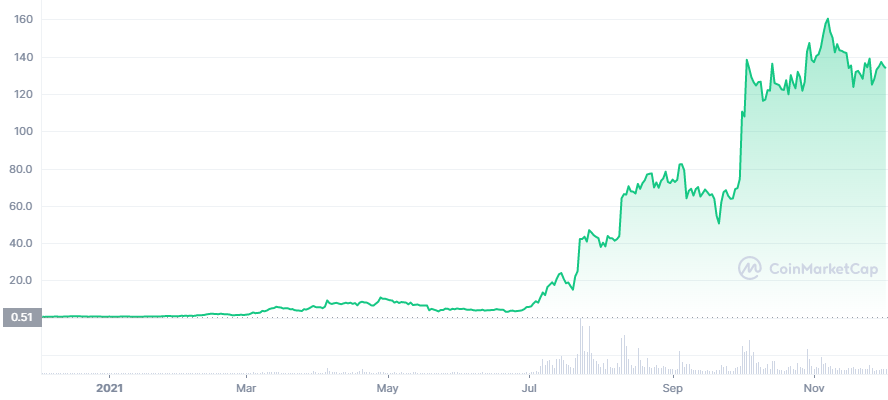 Axie Infinity dominates play-to-ear projects
In a new video, Guy, a pseudonym analyst, told his 1.69 million YouTube subscribers that the play-to-earn (P2E) project, which also hosts the Nonfungible Token Market (NFT), currently dominates the P2E sector.
"The play-to-earn concept is the future of gaming. However, creating a sustainable ecosystem, as the game made money, is not an easy task.

The only project that has managed to implement this is Axie Infinity, which is why it has gained over two million users a month.

AXS is the best game token. "
This year, the price of AXS rose by more than 25 З20% from $ 0.53 on January 1 to the current price of $ 136.89. Even after the stunning growth of gaming altcoins, the analyst believes that AXS has the huge potential.
"Axia Infinity's update has pushed AXS to new historical highs… AXS is in a very strong upward trend and the new historical highs still seem to be ahead of us.

However, Axia Infinity's market capitalization is relatively large, which means that raising the price will require much more money than before. In the meantime, AXS holders are making solid profits and it is very likely that some of them will already be selling. "
Guу concluded his analysis by saying that the game's continued popularity indicated further growth in the AXS token, despite any pressure from both sellers and buyers.
In this case, it has not only players who can sell their game rewards, but also ICO investors who have bought asset for 10 cents.
"The good news is that this increase in sales pressure is offset by the continuing expansion of Axia Infinity, which is creating strong demand for AXS. With any luck, the AXS price will double before the bull market ends. "