BTC has been above $ 10,000 for 365 days
2 min read
Although the cryptoworld's attention is now focused on $ 100,000, few realize that it is more than 365 days that the price of Bitcoin (BTC / USD) is in five-digit digits.

That's right, Bitcoin (BTC) has been trading above for a whole year $ 10,000, while quite a few votes expect it to climb an order of magnitude higher by the end of the year $ 100,000.
BTC journey in 365 days
On Thursday, BTC celebrated an interesting anniversary. BTC has had a whole year behind it, when its price was above 10,000 USD. In September last year, she slowly left the $ 10,000 per coin zone and never returned.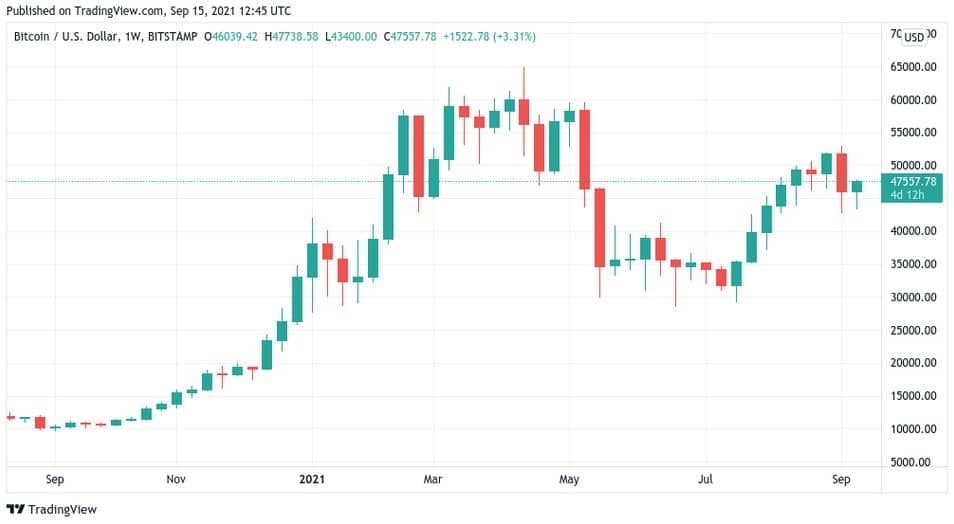 A month later, it was "only" $ 1,000 higher, but quickly began to grow northward and end By the 4th quarter of 2020, the situation was completely different – bitcoins were trading for $ 28,000.
There are many expectations that a similar situation will be repeated this year, and for example the well-known cryptocurrency analyst PlanB states that if the "worst case scenario" comes true, the price of BTC will be at least US $ 135,000 by January 1, 2022.
And we see similarly optimistic predictions from some representatives of the "traditional world and finance". For example, the British multinational banking and finance company Standard Chartered, which has more than 1,200 branches in more than 70 countries, predicts cyclical peak around $ 100,000.
Peak high predictions for this bull cycle:#BTC to $ 275,000-350,000 #ETH to $ 7,500-12,500#Polkadot to $ 100-150#Chainlink to $ 100-150
🤝 -> #Cardano to $ 3-5#Zilliqa to $ 0.80-1.20#Ripple to $ 0.50-0.60

Predictions from January, #Cardano will probably go to $ 10. https://t.co/NksnLIEQo4

– Michaël van de Poppe (@CryptoMichNL) September 12, 2021
And if we look even further into the future, Cathie Wood, the founder and CEO of investment company Ark Invest, believes that the price of BTC will reach $ 500,000 by 2026.
Hodlers wins
At the time of writing, the price of BTC / USD was above the important resistance of $ 47,500. It is also interesting that the "profit days" for the entire history of BTC represent 99.9%.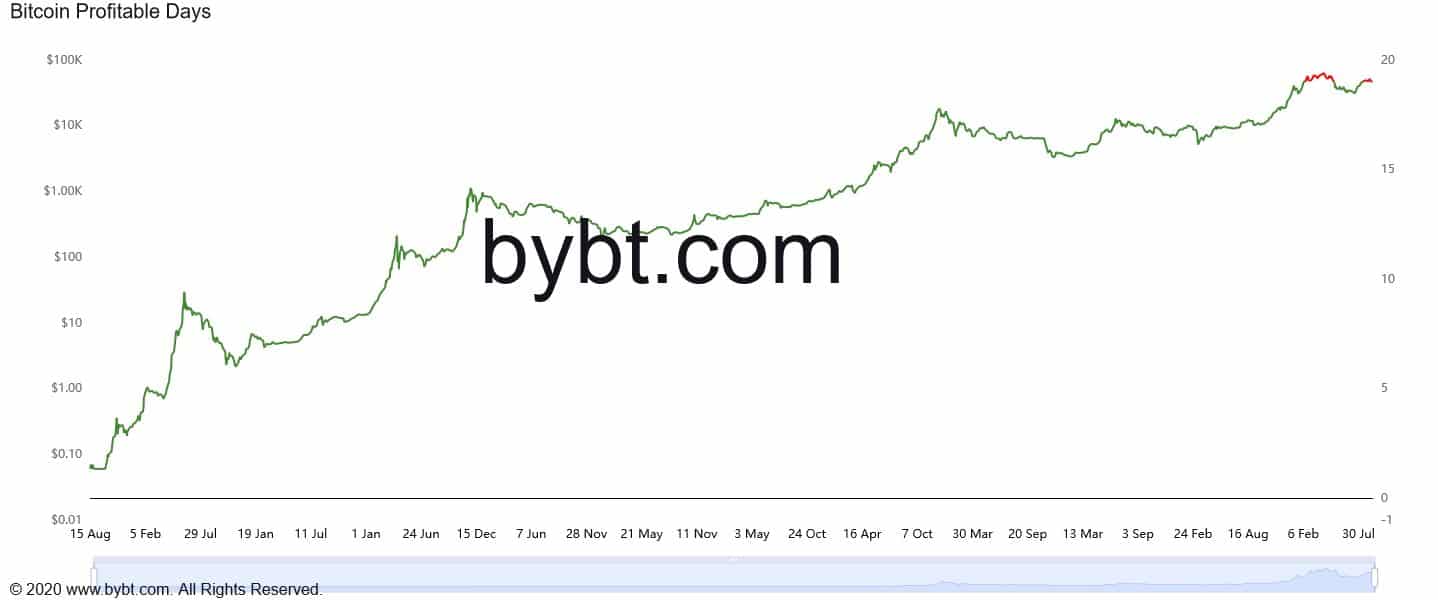 The situation was well summed up in its latest weekly newsletter by the analytical company Glassnode:
"More than 50 percent of the sell-off in May, a strong rally from a low of $ 29,000 and another sharp sell-off this week – all this leaves HODLers cold."
Conclusion

After the holidays, the cryptocurrency market is going through a pretty turbulent period. Although BTC has shown us a relatively sharp fall recently, it's good to know that long-term holders now have more BTC under control than ever before. The number of BTC on exchanges is then at the lowest level since February 2018.
When I look at the current situation from a larger TF and take into account the current on-chain data, I am not worried about the future of BTC and I look forward to achieving a new ATH. And to make the wait a little more pleasant, celebrating 365 days over $ 10,000 doesn't sound like a bad idea, what do you say?