BTC Whales keep buying
2 min read
BTC whales continue to buy BTC. This was revealed by the analytical company Santiment, which published a graph showing a continuing trend.
This is the total volume of BTC held at those addresses that hold between 100 and 10,000 BTC.
These are addresses that contain funds worth more than $ 3 million but less than $ 350 million. The addresses with the largest number of assets are usually the addresses of exchanges that hold funds that are not their own, while addresses in this range belong to individual owners.
Today, the total number of BTCs held at these addresses is 9.13 million (about $ 300 billion), which is 48.7% of all BTCs in circulation. This is a level that has not been seen since April 14, when the historical maximum in the price of BTC reached almost $ 65,000.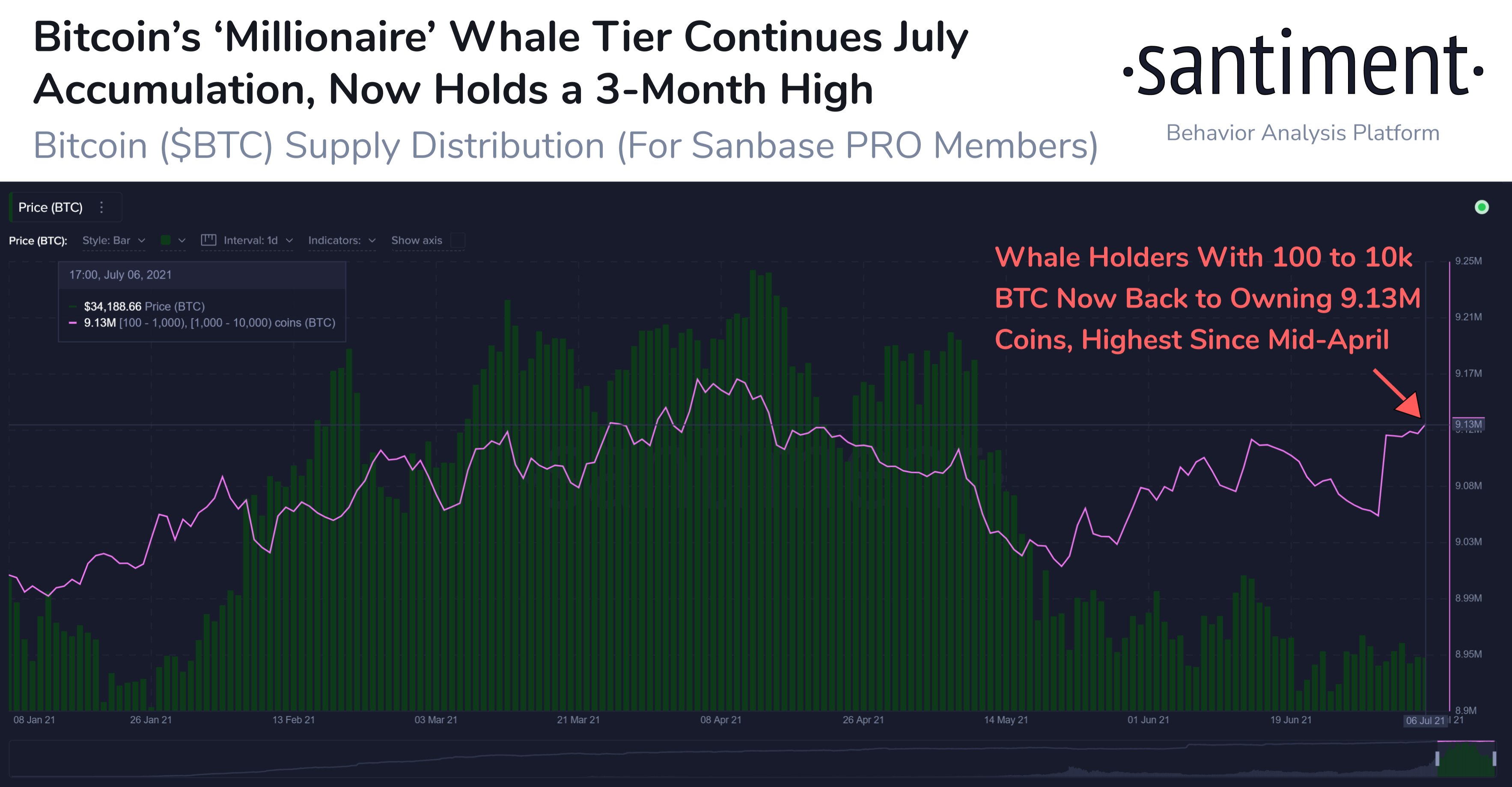 The trend of BTC whales
But perhaps the most interesting is the trend. In fact, from the beginning of April, the total volume of BTC held at addresses with 100 to 10,000 BTC began to decline significantly. The decline was almost continuous until it reached a low in the second half of May, more or less at the same time as the May 19 slump, which cost $ 30,000.
Since then, it has been on an upward trajectory that has brought values ​​back to pre-crash levels by mid-June. It fell sharply in the second half of June and reached a new low at the end of the month. There has been an increase since the beginning of July, and in a few days the value is back at the level of mid-April.
This dynamic suggests that the accumulation phase is still ongoing, although it seemed to have ended in mid-June. However, it has resumed since July.
On the other hand, BTC prices, which are still very low compared to the mid-April highs, are encouraging to accumulate, so this trend is not at all surprising. We will see if the whales that continue to buy BTC intend to keep them for a long time, or sell them as soon as possible to use their investment.