CC Forum Middle East 5th Edition Starts Tomorrow
2 min read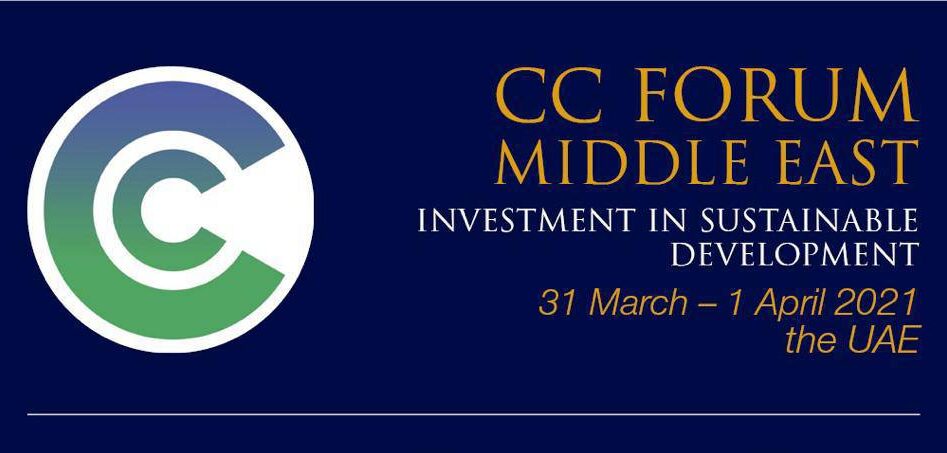 The 5th edition of CC Forum Middle East, "Investment in Sustainable Development," will be held in-person, in Dubai at the Marriott Marquis Hotel on March 31 and April 1, 2021.
It follows CC Forum's highly successful editions in Monaco (September 2020) under the High Patronage and in the presence of HSH Prince Albert II of Monaco and in London (October 2019) which received a royal greeting by HM Queen Elizabeth II.
CC Forum Middle East will not only be bringing together major global investment funds, family offices, VC capital firms, HNWs, senior government officials, brightest startups and well-known public figures to discuss the ways of investing in sustainability, but also convening some of the top players from within the Middle East region with the aim of exploring game changing business opportunities in the wake of signing the historic Abraham accords.
Bringing together the elite CC Forum is privileged to have some of the world's most authoritative speakers. CC Forum's previous participants included among others HSH Prince Albert II of Monaco, Ban Ki Moon, Stanley Johnson, Placido Domingo, Nouriel Roubini, Tim Draper, Jane Goodall, Per Wimmer, HSH Prince Michael of Liechtenstein, Gunter Pauli and Julian Lennon.
CC Forum's day I will traditionally address such issues as Climate Change, Government Strategies, Renewable Energy, Impact Investment, Emerging Technologies, Renewable Energy, Healthcare and Education, Social Inclusion and Philanthropy.
The theme of the second day is "The Middle East: the Big Reset." It will be entirely given to discussing the burgeoning investment opportunities in the UAE for Israeli institutional and private capital and vice-versa.
In addition to the conference and the exhibition, dedicated workshops and exclusive round tables & lunches will be held on such experts' topics as investment in fintech, AI, blockchain, and nano- & biotech for sustainability and human development.
CC Forum the UAE abounds in a rich networking and cultural program even though in strict accordance with the social distancing regulations currently in place.
It is to culminate in the CC Forum's traditional VVIP Investors' Gala & Awards Giving Ceremony with the participation of two of the greatest living musicians – award-winning violinist Maxim Vengerov, a UNICEF Ambassador, and award-winning pianist Evgeny Kissin, at Dubai Opera House on March 31.
The post CC Forum Middle East 5th Edition Starts Tomorrow appeared first on BeInCrypto.