Centralized exchanges handled $14 trillion in cryptocurrencies in 2021
2 min read
Centralized cryptocurrency exchanges, which hold customers' private keys, recorded more than $14 trillion in cryptocurrency volume traded in the year 2021.
According to data from The Block Research, this number corresponds to an increase of 689% compared to the 2020 trading volumes.
Last year, centralized exchanges such as Binance, Coinbase, Bitfinex, moved more than $1.8 trillion.
Also according to The Block Research report, all these numbers are from The Block's Legitimate Index.
The index obtains volume data from the largest crypto platforms that are known to accurately report volumes.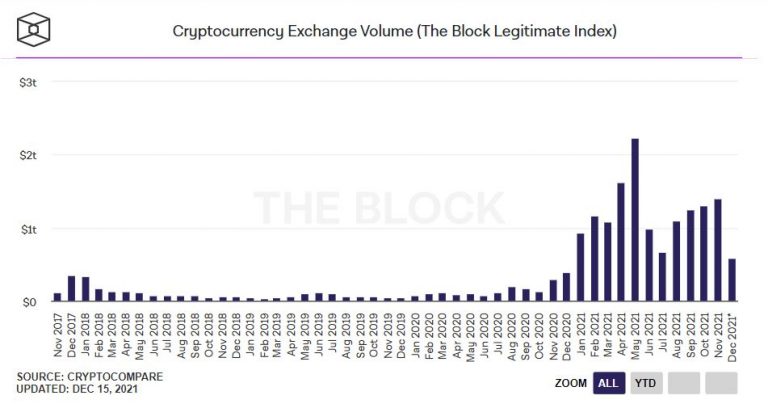 As you can see in the chart above, the month with the highest trading volume was May, with a total of US$ 2.23 trillion.
That month, BTC, the largest cryptocurrency in market value, was traded at around US$ 60 thousand.
On the other hand, the months of June and December (with data up to 12/24) were the months with the lowest volume traded: US$ 662.5 billion and US$ 581.9 billion, respectively.
In the month of November, when the BTC hit its most recent all-time high near $70,000, centralized exchanges traded volume at $1.4 trillion.
Also according to The Block, Binance continues to dominate the market among centralized exchanges.
In all, the platform facilitated 67% of this year's total volume. That's more than $9.5 trillion, according to The Block Research.
Decentralized Exchanges – DEX
Decentralized exchanges (DEX), in turn, also registered expressive growth in volume handled.
As reported by The Block, DEXs saw more than $1 trillion in trading volumes in 2021. This represents an 858% growth compared to their 2020 trading volumes.
Last year, DEXs facilitated more than $115 billion in trading volumes. Uniswap dominates the DEX market, with a share of over 75% this month.