Elrond to Launch Gold and Silver Backed DeFi
2 min read
High-throughput blockchain platform Elrond is delving deeper into decentralized finance with its latest offering which will tokenize precious metals.
Elrond has gone into partnership with U.K. fintech firm Aurus that facilitates the tokenization of precious metals and commodities.
Three tokens for gold, silver, and platinum — AWG, AWS, and AWP — will be issued on the Elrond blockchain as ESDT tokens. The trio of commodity-based tokens will be backed by one gram of the respective precious metal, according to an announcement, which added:
"This opens important opportunities for decentralized finance (DeFi) participants to engage with stable currencies of a different kind, ones that are pegged to precious metals instead of fiat currencies."
Gold backed DeFi
The precious metal-backed tokens will be made available on Elrond's Maiar exchange and automated market maker, which was unveiled in April.
Elrond added that the collaboration will also pursue the deeper integration of Aurus tokens into its existing products. This would include using the commodity-backed tokens as collateral for borrowing and lending, or possibly even launching new stablecoins based on them.
Elrond Network CEO, Beniamin Mincu, said that traditional assets such as gold and silver will gain liquidity through DeFi:
"Blockchain technology will enhance traditional store-of-value assets by making them more liquid, secure, and inexpensive to own and transfer. We're looking forward to seeing the creative DeFi use cases for the products Aurus will bring to the Elrond mainnet."
Elrond is a high-speed blockchain that uses adaptive state sharding and a secure proof-of-stake algorithm. It enables linear scalability and upwards of 15,000 transactions per second with six-second latency, and negligible cost, according to the blurb on the official site.
In April, the popular Polkamon non-fungible token collection migrated to the Elrond network to enhance the user experience and reduce costs.
EGLD token price outlook
Elrond's native token, EGLD, has declined 4% on the day. At the time of writing, EGLD was changing hands for a little over $90.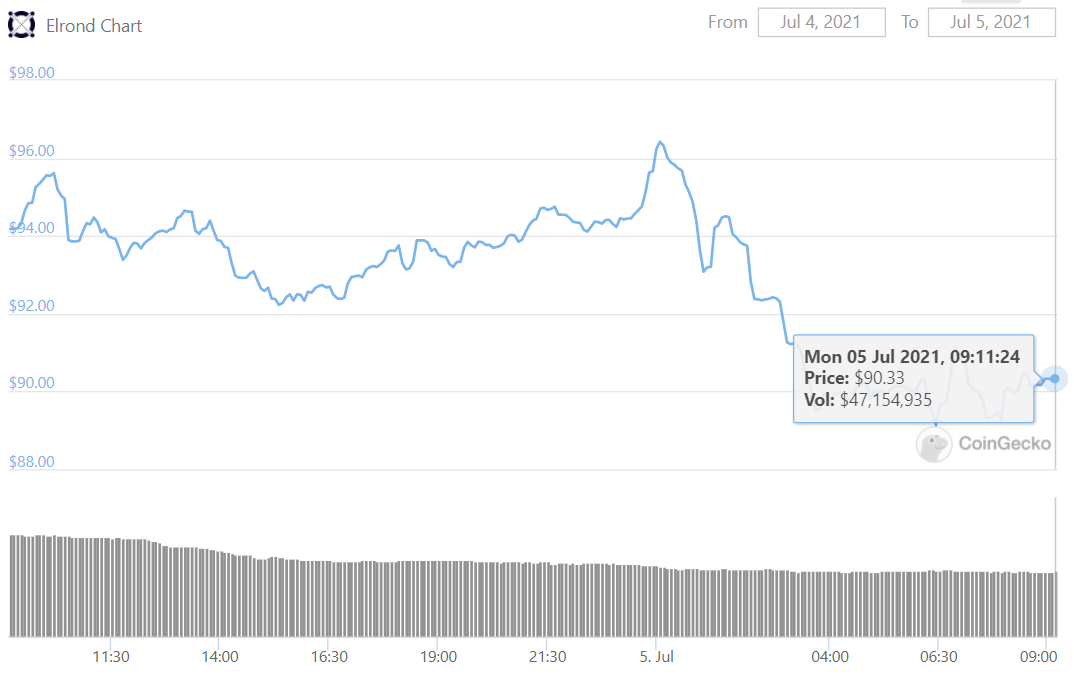 Like most DeFi-related altcoins, EGLD has taken a big hit from its all-time high, this year. On April 12, the token hit $244, and today it is 63.5% off that target.
There are currently 18 million tokens in circulation giving Elrond a market capitalization of $1.6 billion. This ranks it at 62 in the market cap charts, just below THORchain's RUNE.
The post Elrond to Launch Gold and Silver Backed DeFi appeared first on BeInCrypto.