ETH breaks record and registers more than 75 million addresses
2 min read
Even with ETH seeing a drop of more than 2% in the last 24 hours, the biggest smart contract network on the market has set a new record.
ETH has reached a record 75 million addresses (not necessarily users) holding some Ether.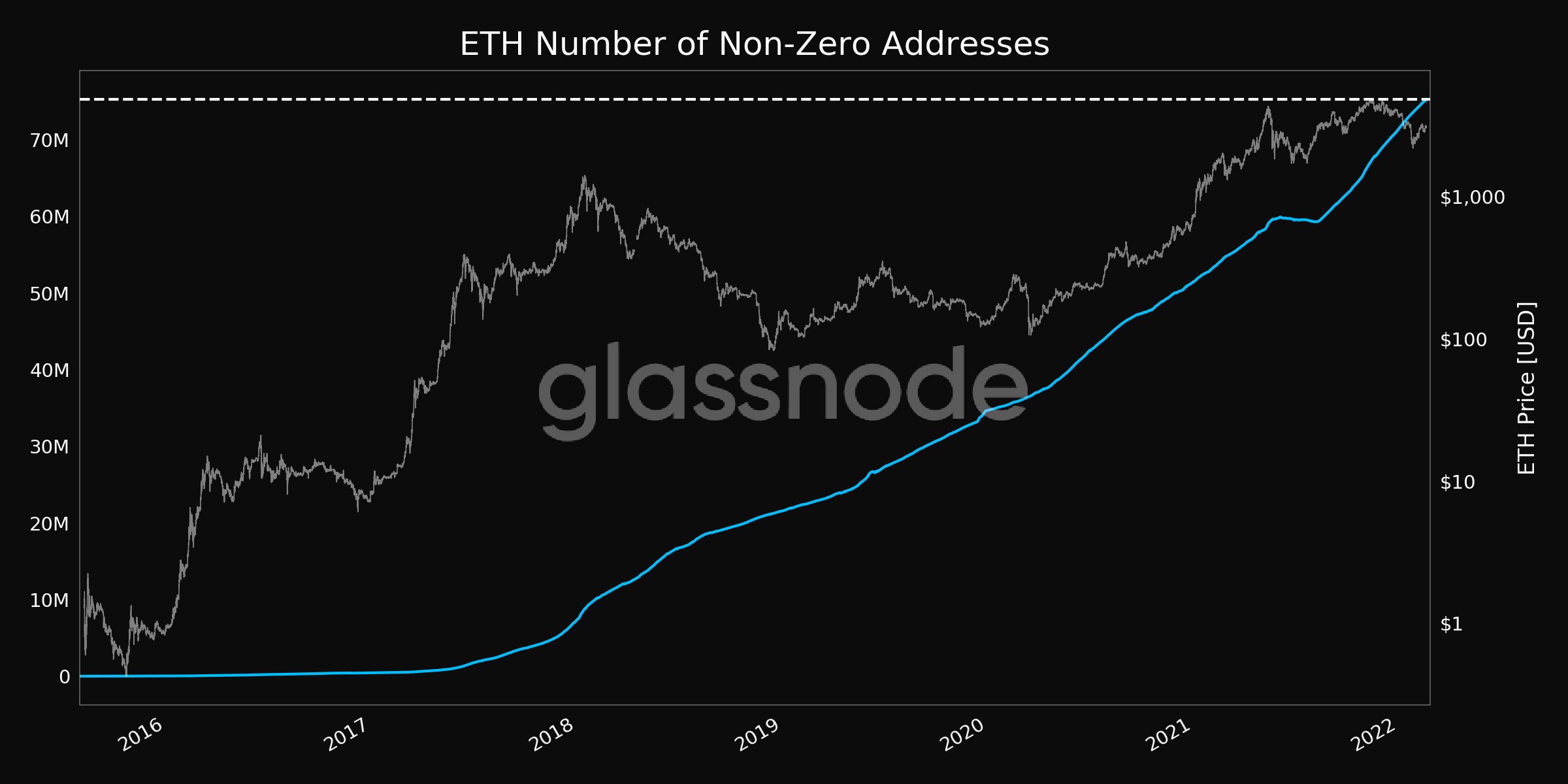 According to data from Glassnode, the number of addresses with ETH has grown a lot since December 2020. The date coincides with the official launch of the ETH 2.0 blockchain: the Beacon Chain.
Record in ETH addresses
As reported by Glassnode, around 40% of the 75 million ETH holder addresses have at least 0.01 ETH. There are about 33 million addresses.
Another 20 million addresses hold more than 0.01 ETH and nearly 7 million addresses hold more than 0.1 ETH.
Finally, addresses that have more than 1 ETH are around 1.5 million.
Analyst Miguel Arroio pointed out that Glassnode data also suggests that addresses with a balance greater than 0.1 ETH followed the ETH price. That is, when Ether dropped, they decreased.
However, after ETH recorded a new all-time high of almost $4,700, the number of addresses with more than 0.1 ETH continued to increase and failed to follow the price trend. Possibly this indicates that investors see ETH as a store of value.
Furthermore, Arroio highlighted that the growing interest in ETH could be linked to its move to PoS, with ETH 2.0, which has been one of the biggest expectations in the ETH community.
"While the correlation does not imply causality, it is interesting to note that the number of holders of at least 0.01 ETH has increased considerably since December 2020, exactly when the Beacon Chain was launched," he said.
Although the Beacon Chain is officially operating, without confirmation of a single transaction yet, there is no definitive date for the so-called "merger", which will be the union of ETH 1.0 with PoW and ETH 2.0 with PoS.