How to Keep VPN on All the Time on Android in 2021
4 min read
There are several good reasons why you'd want to keep VPN on all the time on Android. For one, you can stay protected by encrypting your network data at all times – not just against hackers, but to prevent ISPs from selling your browsing and location data as well.
Many Android apps continue to send and receive data in the background, even while your phone is locked. As such, having your VPN on all the time is the only way to prevent any leaks. That, and going through your device settings to limit which apps can use data in the background.
Another reason to keep your VPN on for longer periods of time is when streaming content, so the platforms don't detect a sudden IP change and block you. The same goes if you want to bypass firewalls at school or at work – your VPN needs to be on constantly for this to work.
Anyway, let's not keep you waiting. Here's what you need to do.
5 Steps to Keep VPN on All the Time on Android
It's actually pretty easy, as Android 7+ devices have a built-in feature called "Always-On VPN" that automatically re-establishes your VPN connection if yours goes offline for any reason. However, you'll have to manually enable the option – here's how to do it.
Note
We use ExpressVPN in our guide, but the process is practically the same no matter which Android VPN you use. However, some steps may be different depending on the Android provider and version you run.
The screenshots below are taken on Samsung's version of Android 10, so keep that in mind. We've also included an alternate guide that disregards the Android version but is unique to each VPN provider.
Step 1: First, run the Settings app and tap on "Connections" (some devices will have "Wi-Fi & Network" instead. Tap on it and go to Step 3).
Step 2: You'll find an option called "More connection settings" here – tap on it.
Step 3: Then tap on "VPN," as shown below.
Step 4: Next, press the gear icon next to the name of your VPN
Step 5: Turn on "Always-on VPN' and "Block connections without VPN" (Android 8+ only) to prevent apps from leaking data outside the VPN tunnel.
You're done! Now, if you couldn't find these exact settings on your Android device, here's how you can keep VPN on all the time through your VPN provider's app settings.
How to Enable Always-On VPN From the VPN App Settings
Once again, we'll be using ExpressVPN to demonstrate the process.
Step 1: First off, launch your VPN app, then tap on the menu icon (usually represented as three horizontal bars).
Step 2: Tap on the "Settings" button, then look for the local network settings ("Network protection" in this case).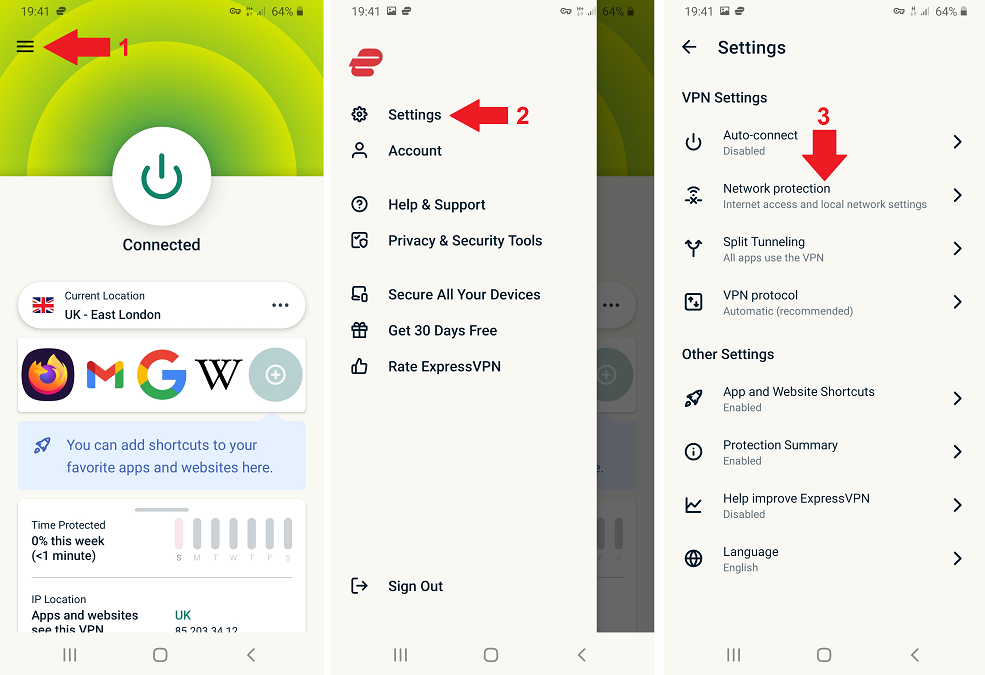 Enable Auto-connect
You may want to enable Auto-connect from the same menu you're in right now. This will automatically start up your VPN app if you restart your Android device.
Step 3: Tap on Network protection (or your provider's equivalent), and you should find a setting to always block all non-VPN Internet traffic.
Step 4: Press on the diagonal arrow to the right to bring up a pop-up menu.
Step 5: Tap on "Android Settings," and you'll come across your VPN provider and a gear icon.
Step 6:Press it to reveal the same Always-on VPN setting described in the initial guide.
Step 7:Toggle the switch, and you're done!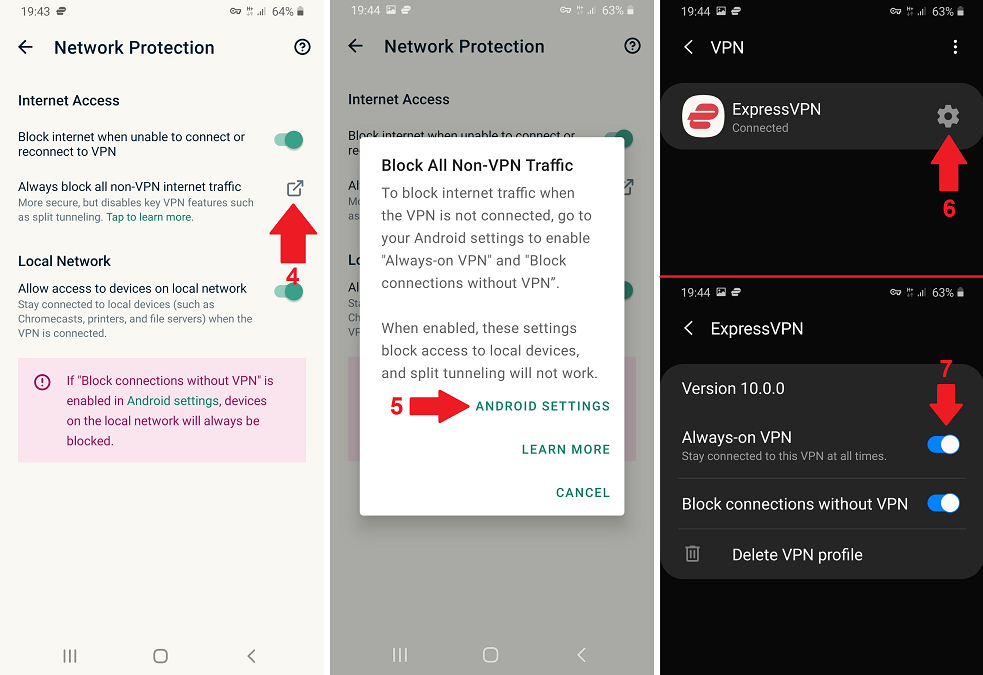 Now you can keep VPN on all the time on Android. For Android 8+ users, you can also turn on "Block connections without VPN" to prevent apps from leaking data.
Using this method means you won't have to fiddle through your device settings. After all, it's not your fault Android vendors can't settle on a single interface naming convention.
Should You Keep VPN On All the Time on Android? (3 Times to Keep It Off)
While it's a good idea to keep your VPN on 24/7, there are a few very specific situations where you may need to turn it off.
1. Online Banking
It's an excellent idea to use a VPN while connecting to your online banking account – especially if you use public Wi-Fi a lot. Of course, our advice is to avoid public Wi-Fi when you work with sensitive data like that.
In any case, some banks may block you from using their online services while using a VPN. This is usually because they block all foreign connections, both for security reasons and to conserve bandwidth for their local users. All you need to do in this scenario is connect to a VPN server in your own country – you'll get a local IP address and will be able to access the bank's website.
You may want to check out our list of the best VPNs with the most servers and widest networks available. After all, you don't want to be left without an easy way to access your bank account while you're traveling abroad.
2. PayPal: VPN Usage Against User Agreement
Some VPN-related actions are restricted according to the PayPal User Agreement:
Access[ing] the PayPal services from a country that is not included on PayPal's permitted countries list
Use an anonymizing proxy […] without [PayPal's] prior written permission […]
As you may have realized, the only way you can access PayPal from a blocked country is by using a VPN. PayPal also counts VPNs as "anonymizing proxies," so technically, they're also banned from the platform (as confirmed by forum moderators).
Problems may pop up when you suddenly use a VPN server from abroad, as PayPal's servers suddenly see "someone else" trying to connect to your account from a different country. Obviously this will be a red flag for PayPal's servers, which are just trying to keep your account secure. Seems fair.
Of course, many users claim they have no trouble accessing PayPal with a VPN. As long as you stick to a VPN server in your own country, there shouldn't be any issues. If you're paranoid about getting locked out of your PayPal account, turn your VPN off while you use the service.
3. You Have Connection Troubles
Unfortunately, even the fastest VPNs out there might cause your connection to lag, especially if your ISP is slow to begin with. As such, it may not be a good idea to keep VPN on all the time on Android if you need to make a quick video call (or similar data-intensive actions). Just remember to turn your VPN back on when you're done!
On a related note, here's how you can speed up your VPN, so you never need to go without protection just because of a slow connection. Finally, here's how to stop your Android from disconnecting from VPN – just in case some of your device settings are messing with your VPN connection without your knowledge.