NFT sales volume reached $ 2.5 billion in the first half of 2021
2 min read
The non-fungible token (NFT) market had volume of sales of $ 2.5 billion in the first half of 2021, according to a Reuters report, citing data from a cryptanalytic platform DappRadar.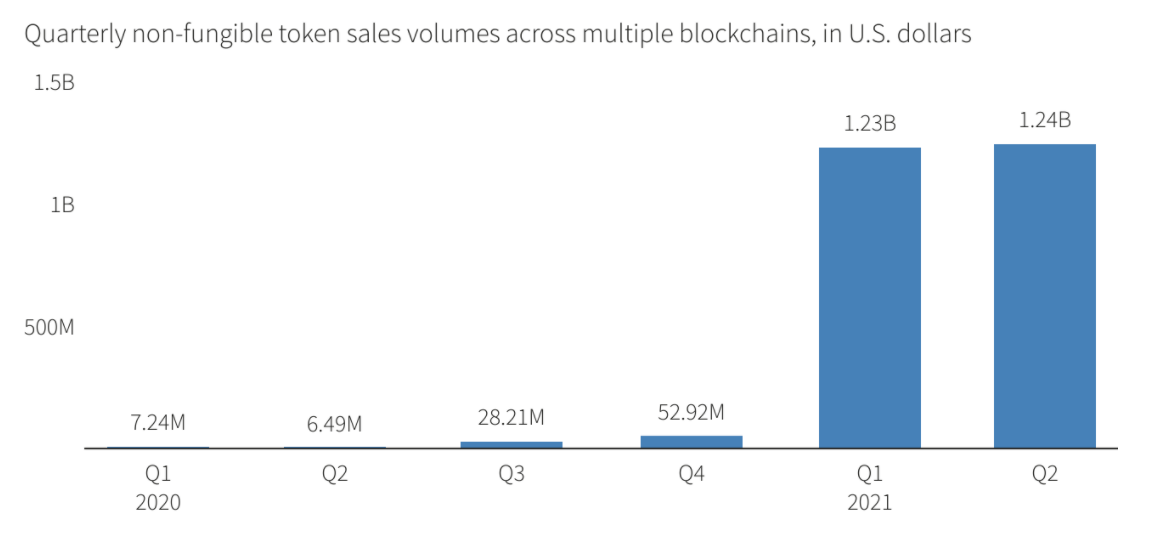 NFTs are cryptographically unique tokens that can be linked to digital content such as art and music. Last year, NFT sales were only $ 13.7 million. However, interest in digital assets exploded in the first quarter of 2021 as the sector entered the art world, with one NFT selling for a record $ 69 million in February at the peak of the hype. Some predicted that the bubble would burst.
NFT sales for the first half are $ 2.5 billion
Individual NFTs continued to sell for millions of dollars; just last week, world wide web creator Tim Berners-Lee sold the NFT representing the source code of the web for $ 5.4 million, and at the end of June, digital artist FEWOCiOUS sold the NFT collection for $ 2.1 million.
Meanwhile, data from the NFT transaction tracker show NonFungible that interest does not disappear. Since March, buyers still exceed the number of sellers every week and the total sales are 10,000 to 20,000 NFT per week.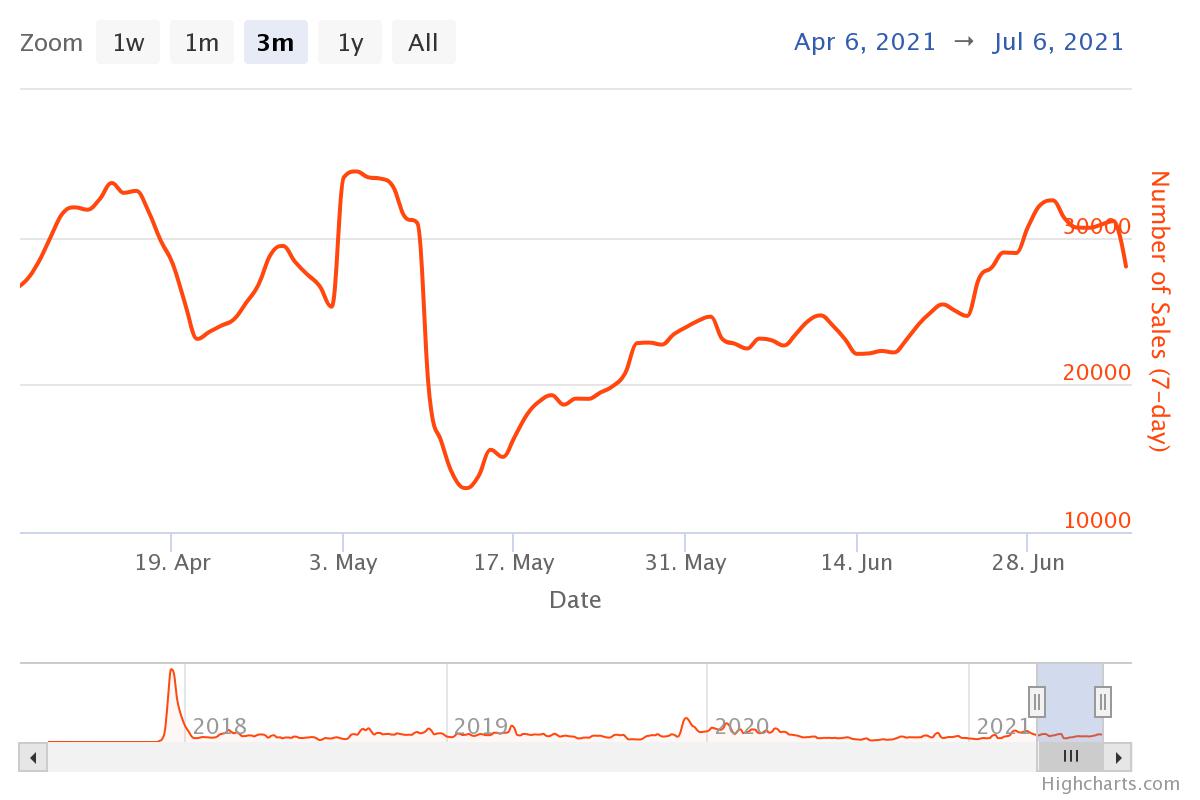 Monthly sales volumes in one of the NFT's largest markets, OpenSea, reached record highs in June. And investment in this sector is still growing. NFT Rarible closed a $ 14.2 million Series A funding round, while NFT Genius won $ 4 million in an investment round led by Mark Cuban. Fox Corporation, meanwhile, has invested $ 100 million in a new NFT studio.
However, the NFT is also criticized, especially for the lack of clarity of regulations and their carbon footprint.
Interpreting data is also difficult because analytics platforms differ in what metrics they track. The sales volume reported on the NonFungible platform for the first half of 2021 is almost half that of DappRadar, partly because it excludes NFTs used in decentralized finance (DeFi).
NFT success stories
Throughout the first half of 2021, the most popular NFTs were sports and collectibles, according to NonFungible. Recently, however, Top Shot, the marketplace for the American National Basketball Association, has seen a decline in sales.
Revenue from a platform that allows fans to buy and trade video "moments" of their favorite NFT sports moments has been nearly halved in the last three months; the price of the "moment" fell from a peak of $ 182 in February to $ 27 in June, according to DappRadar.
Meanwhile, other NFTs came to the fore. Notable success stories include The Bored Ape Yacht Club, a set of 10,000 NFTs with digital apes. The average price of one of them is currently $ 3,600 – an increase of 1,574% from its introductory price of $ 215 in April.
The very popular CryptoPunks NFT series also continues to be a success, while the creators of Lava Labs hope to repeat their popularity with Meebits, a series of 3D avatars rendered in voxels.