7 Best Kodi Live Sports Addons in 2021 (Kodi 19 & 18)
6 min read
Watching live sports over the Internet can be a bit of a hassle. However, Kodi comes as a solution to your worries, as it brings a nice selection of addons. These let you to watch different types of sports games online, in addition to streaming on-demand content. So, what are the best live sports Kodi addons in 2021? Let's find out!
Before we dive deeper, you should know that all of the following recommendations are 100% legal. You've probably heard that Kodi is plagued by piracy, with popular repositories being shut down regularly. Well, we won't talk about those addons in this article – as you should never resort to piracy, which also exposes you to plenty of other digital dangers.
How to Find and Install Live Sports Addons on Kodi (v19, v18 & Earlier Versions)?
Even first-time Kodi users will have an easy time installing addons. We're here to help, so here are the steps you need to take.
Launch Kodi and click on 'Add-ons' using the main menu (on the left side).
Then, select 'Download,' once again using the main menu.
Click on 'Video Add-ons' and then select the add-on you'd like to install (such as iPlayer WWW, Red Bull TV, NBC Live Sports Extra, ESPN 3, ESPN Player, Fox Sports GO, or Sportsnet Now).
At this moment, you should see the selected addon's overview screen.
Go ahead and click on 'Install.' Wait until the addon downloads and installs.
Lastly, return to Kodi's 'Add-ons' section and launch the newly installed addon.
What Are the Best-Working Kodi Live Sports Addons in 2021?
Live-stream sports matches and watch on-demand games using any of the following seven live sports addons for Kodi, as listed just below.
iPlayer WWW
Red Bull TV (Compatible with Kodi v19)
NBC Sports Live Extra (Compatible with Kodi v19)
ESPN 3
ESPN Player
Fox Sports GO
Sportsnet Now
1. iPlayer WWW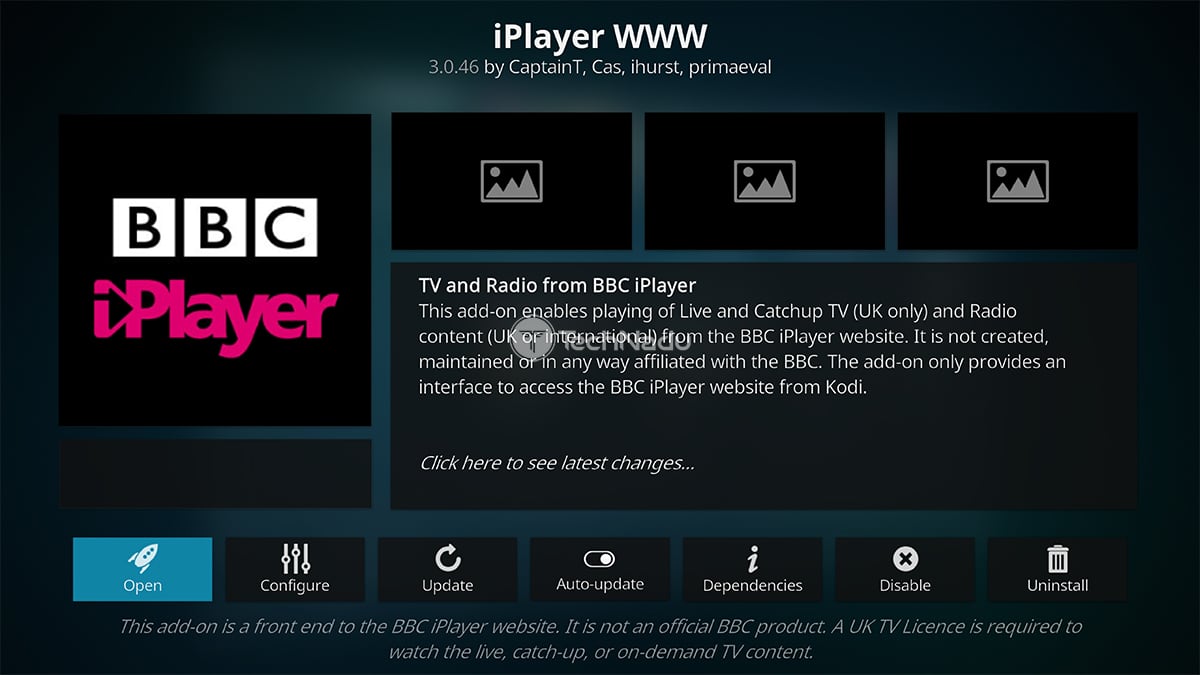 The iPlayer WWW addon grants you access to BBC's iPlayer. If you're residing in the UK, we are sure you've used BBC's video player many times before, as it's one of the most popular digital services of its kind.
This is an incredible source of video content where you can find news, movies, TV shows, live sports, radio stations, and plenty more. And the best thing is – all of this is available on Kodi as well. And no, we're not talking about decades-old content.
Since we're talking about live sports Kodi addons, we shouldn't forget this side of the iPlayer WWW. In general, the BBC broadcasts sports events from the UK. However, you can also find international sports events like the NFL Super Bowl.
Finally, aside from watching live content (from over 30 BBC-owned channels), there's a nice selection of sports replays, regularly updated and always available.
2. Red Bull TV (Compatible With Kodi v19)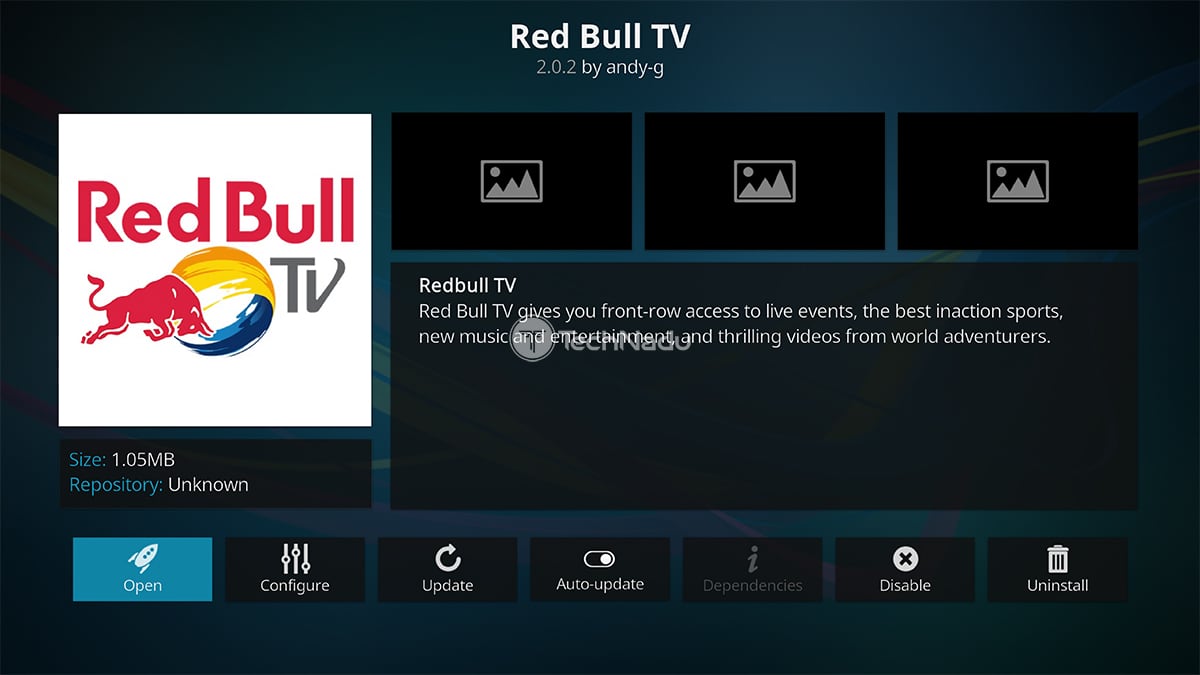 And now something for the fans of adrenaline-filled sports. We are sure that many of you are already watching Red Bull TV over the Internet, or perhaps on your smartphone. We can't blame you, as Red Bull TV comes with tons of interesting content.
In fact, this TV network has an incredibly capable website that hosts on-demand content as well – and it's available anywhere in the world. However, you can also integrate Red Bull TV with Kodi via this nicely designed addon.
Red Bull TV is an official Kodi addon, which means it comes with a simple installation method. Once installed, you can use the addon to browse the catalog of on-demand videos, as well as to stay on top of the latest events. Pretty much everything is covered, and the addon streams media files effortlessly.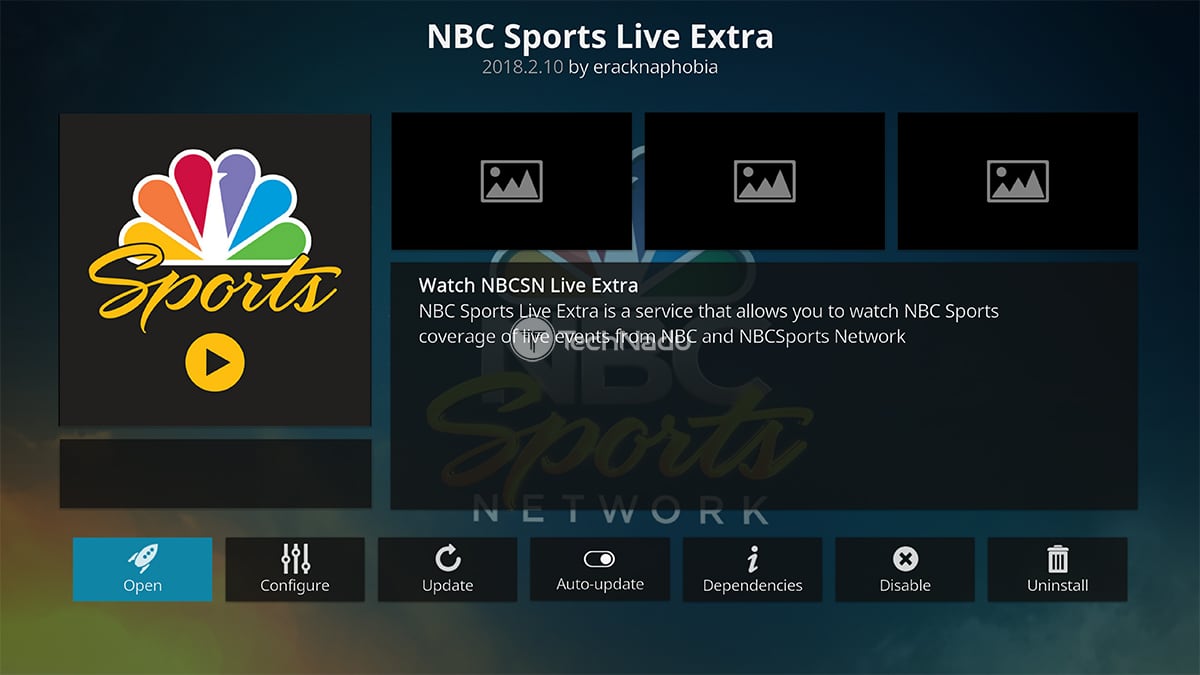 As you already know, NBC Sports is one of the most popular TV channels when it comes to watching football, soccer, golf, tennis, and plenty more. And with that said, it's no wonder why we're featuring it on our list of the best Kodi addons for watching live sports.
This TV network has plenty of exclusive broadcast rights, meaning that sports fans will be more than happy to access this TV channel over the Web (and via Kodi, as well) as the best way to follow their favorite teams.
We have to say that NBC Sports Live Extra is one of the most polished live sports Kodi addons, as it's been available for a long time now. It works without any issues, comes with plenty of content, allows you to live stream various events and watch replays, and more. You'll definitely want to try it out.
4. ESPN 3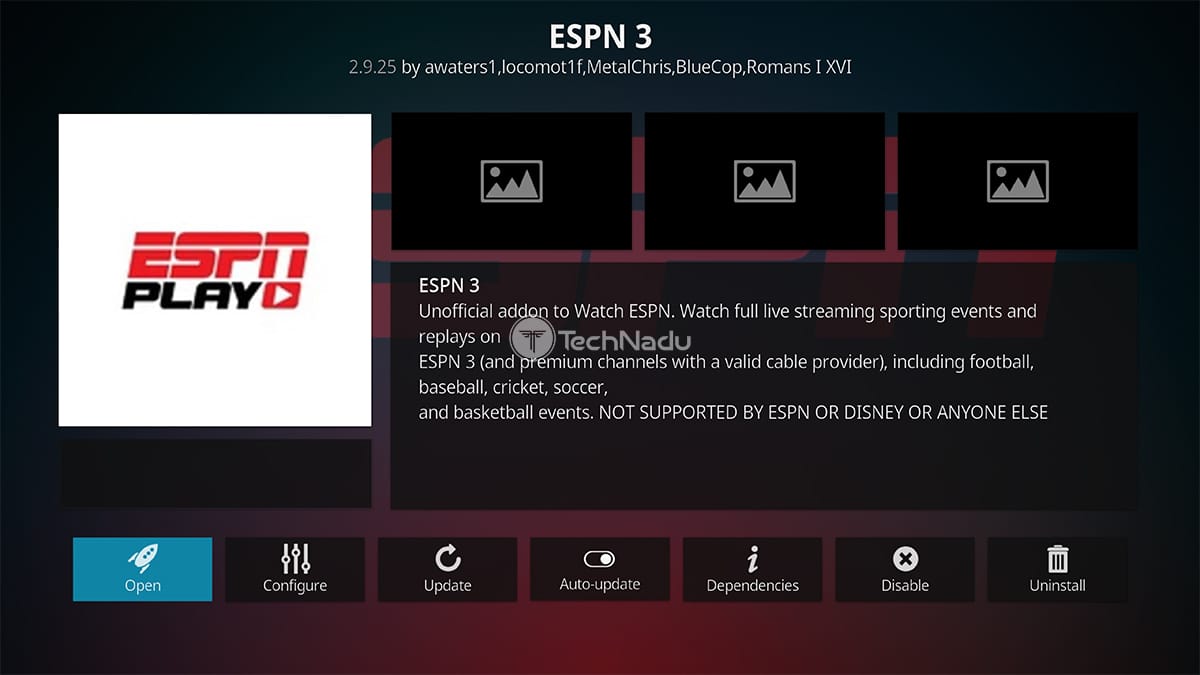 Here, we have a very interesting live sports Kodi addon. Called ESPN 3, it lets you watch ESPN, ESPN2, ESPNU, ESPNews, ESPN Deportes, SEC, Longhorn, ESPN3, SECPlus, and ACCExtra. However, there's a catch.
The addon is available to those from the USA only. And on top of that, you need a valid cable subscription. Once you authenticate your cable provider, the addon unlocks all of its content. This means you can't use a VPN to access ESPN 3 outside the USA.
We'd also like to note that ESPN 3 brings high-quality streams. In general, these exceed any video quality that you get through a cable subscription. This makes ESPN 3 highly interesting even if you're not a cord-cutter.
5. ESPN Player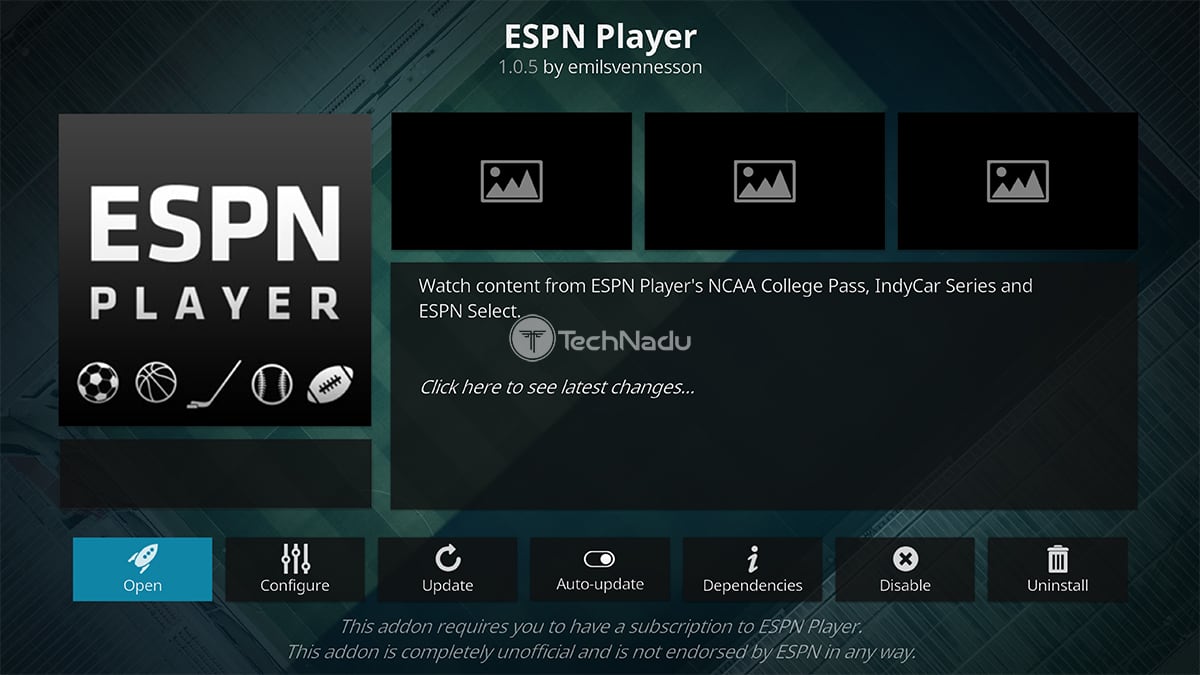 ESPN certainly needs no introduction. This is perhaps the most popular group of sports channels in the USA, so it's not surprising to see its influence spread worldwide.
With that said, ESPN Player is an OTT service available outside the USA and Canada. It's created for ESPN fans from Europe, the Middle East, Africa, and select countries in Asia.
By installing the ESPN Player addon, you get access to a whole slate of TV channels such as ACCN ESPN, ESPN U, SEC Network, and more. You'll get to watch basketball, baseball, volleyball, tennis, and – football, of course. The addon works without any problems, and this OTT service comes at an affordable price.
6. Fox Sports GO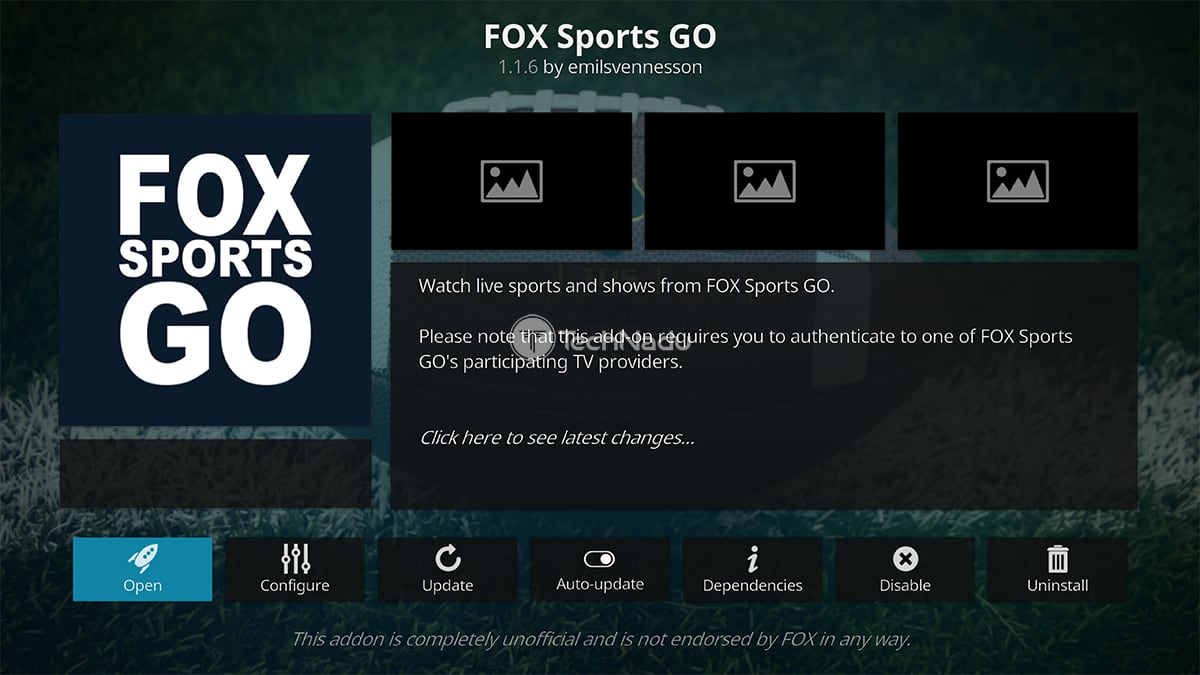 Fox Sports GO is a free OTT service – but only if you have an applicable cable or live TV streaming subscription. This means you can use the addon in the USA but also outside of the country with the help of a VPN application (remember that you still need a valid subscription, though).
You'll get to live-stream TV channels such as FOX, FS1, FS2, Deportes, and BTN. In addition to that, you can watch pre-game and post-game shows, documentaries, original TV shows, and a huge list of other types of programming. As you can see, there's a reason why Fox Sports GO is among the best live sports Kodi addons.
7. Sportsnet NOW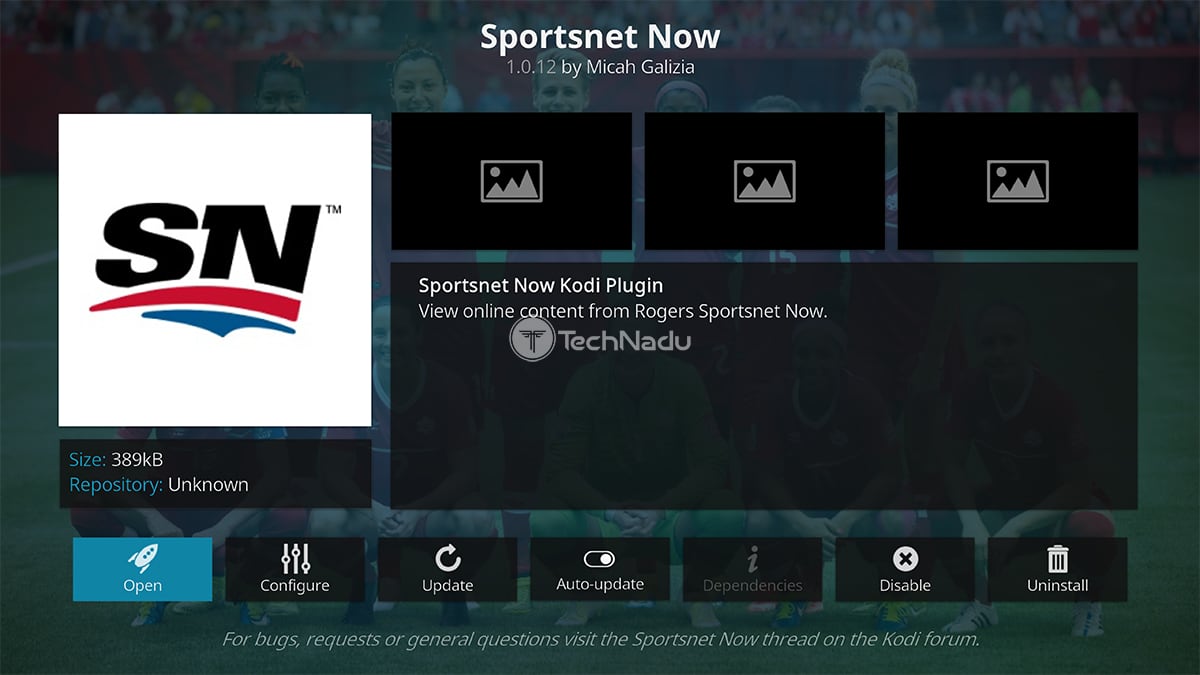 Sportsnet NOW is the most popular sports streaming service in Canada. It comes with plenty of exclusive content you won't find elsewhere – and it truly caters to a broad range of sports fans. However, this isn't just a streaming platform, as this is actually a major TV network. This means you'll get to watch on-demand content as well.
If you decide to try this streaming service, know that it comes priced at $19.99 per month (if you don't need all of its content). And if you want every NHL and NBA game out there, this will cost you $27.99 – so, still affordable.
Live Sports Kodi Addons Not Working? Here's What to Do!
When installing Kodi addons, you might encounter error messages like "Something went wrong" or "Check the log for more information." In case you're facing such problems, here's what you need to do.
Problems with installing live sports Kodi addons can often be resolved by clearing Kodi's cache. These are temporary files that accumulate over time, causing issues with Kodi's performance. Use the provided link to learn how to resolve this problem.
Also, we recommend updating/reinstalling Kodi. However, keep in mind that many addons still don't work on Kodi v19. So, if you have an older version, you'll want to update to Kodi v18.9 instead.
If you see error messages pointing to dependency-related problems, you should try installing those dependencies manually. This is a common issue with "unofficial" (Web-based) addons. Here's how to resolve errors with failed dependencies.