74% of Brazilians want to buy or earn digital collectibles, says survey
2 min read
Brazilians are definitely interested in digital works in the form of non-fungible tokens (NFTs). According to a recent survey, 74% of respondents have some interest in the new technology.
More precisely, they responded that they are looking to buy an NFT or receive one as a gift, or want to know more about it.
THE report The research project in question, entitled "Brazilians looking to diversify their investment portfolio with cryptocurrencies" was commissioned by the Brazilian cryptocurrency exchange, Crypto.com
The study interviewed more than 2,059 Brazilians, aged 18 or over, 49% men and 51% women.
The objective is to learn about Brazilian banking preferences, investment habits and opinions about cryptocurrencies and NFTs.
The survey comes shortly after Crypto.com launched its Visa debit card in Brazil.
40% of Brazilians invested in crypto in 2020
In addition to showing Brazilians' interest in NFTs, the study also found that around 40% of respondents made some investment in cryptocurrencies last year, while 60% did not.
Among those who invested, more than half (54%) said they would buy cryptocurrencies such as BTC and ETH on their own.
Already 46% plan to put their money into a crypto-asset investment fund. In addition, more than a quarter of current investors plan to invest in NFTs.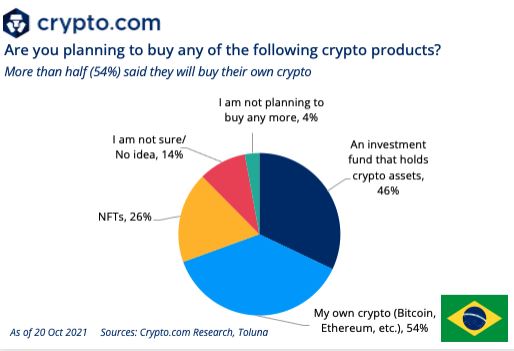 Crypto.com also asked participants about their interest in spending cryptocurrencies on debit cards at stores.
Among the more than 2,000 respondents, more than 60% believe that it is important or very important to have this option.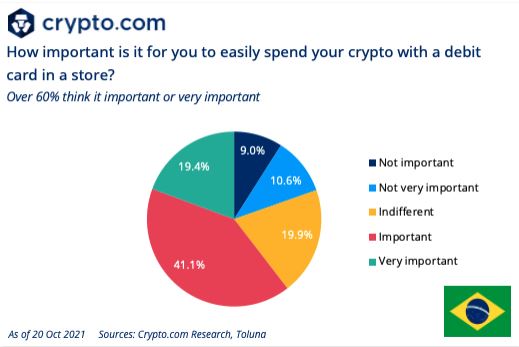 Specifically about the "crypto journey" of Brazilians, the exchange wanted to know about future investment plans.
About this, 43% said they intend to save in a conventional bank account. Meanwhile, 32% said they will invest in the stock market.
Those interested in buying cryptocurrencies were 27% and those planning to invest in a crypto fund 28%.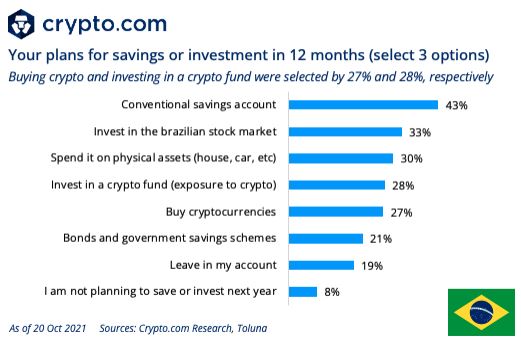 Cryptocurrency Applications and Portfolio
Of the Brazilians who invested in cryptocurrencies in 2020, 13% invested less than R$100 and 10% invested up to R$500.
Also, 6.3% spent up to R$1,000; 6.1% up to R$5,000; less than 3% between R$5,000 and R$10,000; while only 1.3% invested up to R$50,000.
Of the more than 2,000 respondents, only 11 (0.5%) spent more than R$50,000 on crypto last year.
Regarding diversification, 42% of investors interviewed said that crypto represents 3% to 10% of their portfolio. Meanwhile, 24% responded 11% to 40% and 23% said 1% to 2%.
About 4% of Brazilian investors consider that cryptocurrencies represent more than 70% of their portfolio.
Of the more than 1,200 Brazilian respondents who have not yet invested in cryptocurrencies, nearly 60% said it is likely or highly likely that they will invest in crypto in the next 12 months.
Among those investing, two-thirds were motivated to buy crypto-assets as an investment, while 33% see the assets as a form of protection against economic instability.
How ASIC orders from institutional miners affect the price for terahash