Analysis firm points out that Bear Market for BTC could be close
2 min read
A recent report published by Glassnode, one of the most respected companies in the crypto universe, points out that a possible Bear Market could be close for the cryptocurrency market.
According to the company, although the level of BTC held by long-term holders (holders) is at high levels, the on-chain data reveals a transition. Thus, they indicate that they are starting to sell their BTCs:
"Bulking markets can usually absorb many months of this distribution phase. But as sales continue, the possibility of a local or global limit increases," he notes the study .
According to the company, the sale of BTC holders, followed by the sale of more than 140,000 Mt. Gox BTCs and the disapproval of a BTC spot ETF by the SEC, could plunge the market into a new bear market.
BTC drop
The first indicator Glassnode uses to show this stage of sales is the concept of "age" of coins. That is, the length of time they remain motionless.
This is measured in "Currency Destroyed Days" (CDD). Each BTC unit accumulates one "coin day" daily. For example, 0.5 BTC accumulates half a day of currency for each day that remains idle. As soon as they change hands, the monetary days are destroyed.
Based on this, the graph below shows that the days of destroyed currency, proportional to the BTC sold, go from 10 million to 12.5 million in November. This shows BTC sales for that period.
However, sales are well below what was sold in November 2020 and January 2021, compared to BTC increases.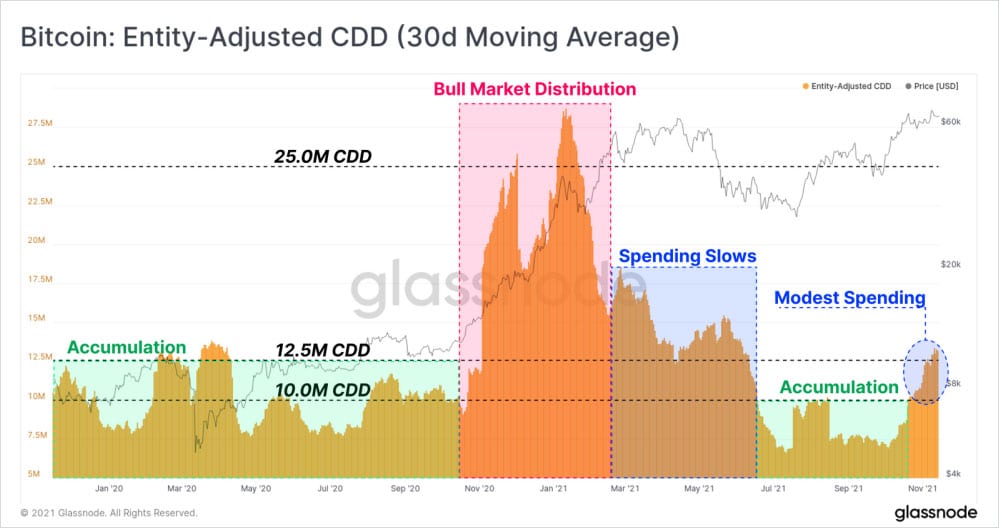 In this way, as the coins change hands, the days of coins created and the days of coins destroyed increase simultaneously.
The relationship between days of destroyed coins and days of created coins is defined in the report as liveliness. This metric tends to grow when there is more currency day destruction and spending is imposed.
On the other hand, when the liveliness decreases, the retention of coins, or the hodling, is imposed.