Arenum, a platform for mobile games tournaments
4 min read
Arenum is a DeFi platform focused on mobile games tournaments. The team hosted 4 IDO events at SolRazr, Trustpad, Occam and Infinite Launch. The platform runs on Solana Blockchain.
After a successful IDO suite and funding in excess of $ 1 million, Arenum has proven that there is a gap in the market for a gaming platform.
Mobile games tournaments
Although not currently active, Arenum is set to launch on May 15. They are currently testing a platform with nine mobile casual games and a tournament platform where players can win gems that can be exchanged for NFT in a future Arenum meta version.
The ambitious project can be divided into three parts: the Arenum platform, the Scorebeat add-on application and the Arenum token.
Arenum platform
Arenum is a tournament platform where players can register for tournaments for PUBG mobile, Call of Duty mobile, Garena Free Fire and Brawl Stars. Most of them are recurring tournaments, with Brawl Stars being the most popular game with over 40 tournaments per day.
Everyone can register on the platform for free and register for daily tournaments. Details of joining the room and participation will be announced 10-15 minutes before the start of the first round.
It is possible to grab a certain number of gems for each tournament. Leading players get the most gems. From now on, gems are not coins or tokens and cannot be exchanged for governance token (ARN) – they are simply collectibles in the game.
Arenum has confirmed that the gems will be exchangeable for the NFT once the platform comes out on May 15.
In its final release, Arenum will include an SDK for all developers to integrate with, and a platform to reward players who engage in partner games through tournaments, missions, or daily tasks.
The platform's main goal is to provide game developers with the tools they need to attract new players, and acquisition costs will be dramatically reduced if Arenum focuses on pairing players with a set of games, not a single one.
In addition, rewarding players for time spent in partner games is an effective incentive for billions of players around the world to join the NFT and cryptocurrencies. The platform is free and will remain free even after release.
Free players have limited access to tournaments and have no benefits. The more $ ARNs you put into the platform, the more tournaments and benefits you can win.
While winning tournaments in the testing phase will only bring you gems, winning them on a newly released platform will bring you tokens and eggs. Eggs can be breed for more valuable or can be used to hatch monsters. Monsters can be used to fight in PvP in the auto-battler mode of the newly created metaversion.
Scorebeat
Scorebeat is a place where developers test new ideas for upcoming titles they want to release. The platform is home to nine minigames: Bouncing Balls, Rise Up, Merge Masters, Diamond Jump, Boom Ballz, Knives Hit, Dunk Stars, Flappy Doggo and Classic 2048.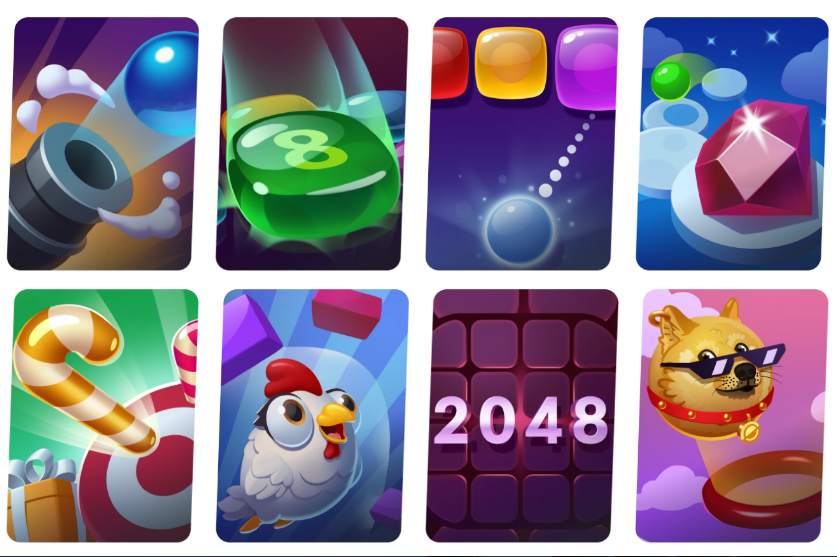 Games will reward you with coins. Coins serve no real purpose other than testing games.
The team wants to release more than 200 minigames like these to test various features and host occasional tournaments from time to time.
ARN tokens
The total offer is 100,000,000 ARN 17.5% is dedicated to community incentives.
Depending on how much $ ARN you stack, you will receive a level from level IV to level I and possibly a level of God.
Level IV allows you to participate in most tournaments, but bonus tournaments will be locked for you. Payment of prizes will be expensive and obtaining good eggs for hatching is almost impossible;
Tier III requires a deposit of 20 ARN, including a free starter pack for the car battler. Level III players will receive some benefits such as an NFT badge and special promotions. They will also receive a 5% referral bonus from friends who refer the Arena;
Tier II requires a deposit of 80 ARN and rewards players 24/7 with premium support, lower payout transaction fees and premium tournaments;
Level I requires a deposit of 160 ARN and is the level that allows you to create tournaments on their platform. It also gives players a great chance to get rare eggs;
Level 0 requires a deposit of 1,000 ARN. This level is for developers who want to add games to the platform and benefit from the players that Arenum attracts to tournaments. They can have an infinite number of referral links, create their own prize pools, and have a personal support manager. Level 0 is also referred to as "God".
Regardless of a player's participation in the level system, players do not have to bet to have access to the platform.
In conclusion
With a promising plan with several minigames and an upcoming release, Arenum will become a platform that we will focus on in the coming weeks.
Although their promises may be delayed due to the position of the team that appears to be in Russia at the moment, most of their plans are well under way.