Chainalysis: "Rug pulls will be booming in 2021"
2 min read
Scams are the "greatest threat" to crypto adoption. The analysis company Chainalysis comes to this conclusion in a new report
Published in February every year Chainalysis a report on the current crime situation in crypto space. Admittedly, you have to focus on the complete Crypto Crime Report 2022 be patient, a first preview the US analysis company has already made it available. Chainalysis primarily focused on fraud.
In general, the number of scams in 2021 increased by 81 percent compared to the previous year. A total of 7.7 billion US dollars were stolen in fraud cases. However, the record year 2019 remained untouched. Nevertheless, the US company sees illegal activities as the "greatest threat to crypto adoption".
The analysts justify the increase with a significant increase in so-called "rug pulls", a scam that is widespread mainly in the DeFi space. Projects collect funds from their victims via tokens and then simply disappear from the scene. According to Chainalysis, these types of scams were booming 37 percent ($ 2.8 billion) this year.
Crypto enthusiasts are likely to be particularly interested in the case Thodex remember. The Turkish crypto exchange surprisingly shut down at the end of April. Since then, the authorities have arrested numerous employees. The CEO disappeared and has been on the run ever since. Chainalysis estimates that the fraud case alone accounts for around 90 percent of the rug-pull volume with a loss of 2.6 billion US dollars.
Scams have a shorter duration
If you subtract the share of rug pulls, the total volume has only increased slightly compared to 2020, says Chainalysis. If you look at classic investment fraud in the crypto space, the number of deposits fell from 10.7 to 4.1 million. The analysis company assumes that although there have been fewer individual victims, the average amount of damage has increased. Chainalysis also found that much of the money from investment scams ended up ending up on major mainstream crypto exchanges.
However, the duration of these scams hit a new low in 2021. The average "lifespan" was therefore only 70 days. Chainalysis attributes this development to better law enforcement and crypto security companies trying to nip scams in the bud. Fraudsters are therefore under more pressure, which is why funds are collected more quickly.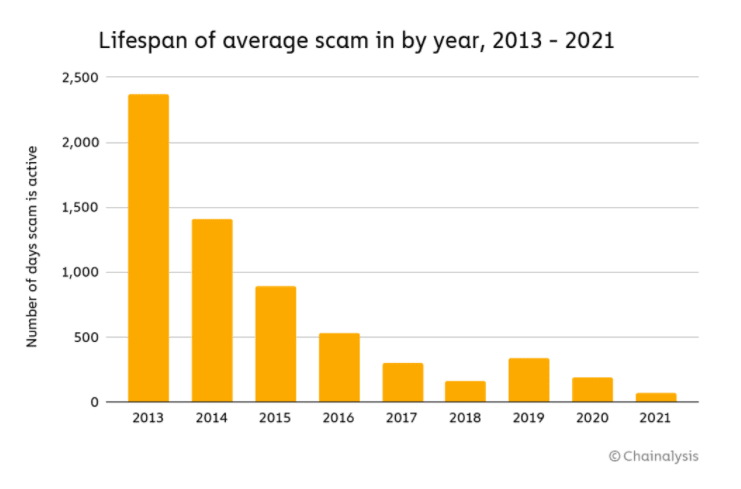 While this year's Chainalysis report deals with fraud in the crypto space, the US company examined the proportion of illegal crypto transactions, for example for money laundering or terrorist financing, in the previous report. Measured against the share of all transactions, only 0.34 percent of the transfers were of a criminal nature.