How much damage was caused to the economy by the issues of leading central banks?
3 min read
Since the US Federal Reserve launched its first quantitative easing program during the global financial crisis in 2008, the central bank's operations have turned upside down.
The data shows that since 2008, the world's leading central banks, including the US Federal Reserve, the Bank of Japan, the European Central Bank and the Bank of England, have invested more than $ 25 trillion in the global economy, of which more than $ 9 trillion relates exclusively to COVID -19. This is based on data from the Atlantic Council think tank.
They are now following the central bank on extremely thin ice – they need to limit the purchase of assets without jeopardizing economic development. In response to the economic shock caused by COVID-19, the world's leading central bank expanded its quantitative easing program by a total of $ 9.1 trillion to support its economies and international financial markets.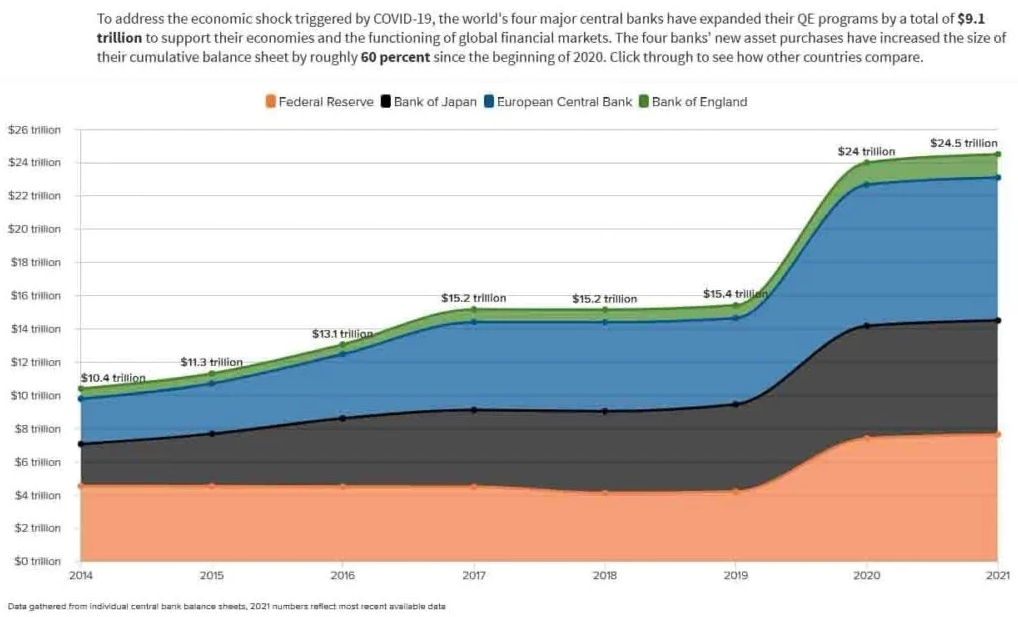 The chart shows that by purchasing additional assets, these four central banks have increased their combined balance sheet by about 60% since the beginning of 2020.
Each time the central bank engages in quantitative easing, it buys a significant amount of assets, such as government bonds, in order to lower interest rates on loans while increasing spending, in order to accelerate economic development and, ultimately, inflation.
Back in 2014, former Federal Reserve Chairman Ben Bernanke said that "the problem with quantitative easing is that it works in practice but does not work in theory." The central bank may be forced to abandon its new policy if inflation continues to rise, as the aim of this step (quantitative easing) was to change strategy and raise average inflation expectations.
The price of gold is rising steadily and, according to the latest data on inflation in the US, has reached a nearly five-month high. Randu Smallwood, CEO of the precious metals mining company Wheaton Precious Metals Corp., said that inflation is becoming a threat, which is encouraging more and more commodity purchases.
"There is no doubt that inflation will be a growing risk over time. I will say that it plays into our hands, because the price of commodities has already risen significantly. "
As a result, many people turn to gold, stocks, cryptocurrencies, and other protectors of value against inflation.
Notably, the US consumer price index was 0.9% in October, up 6.2% from the same period last year, with growth expectations rising by 0.6% from September to October. on an annual basis – by 5.9%. As a result, the October value of the consumer price index in the United States has become the highest in more than 30 years.
On Tuesday, November 9, the US PPI increased by 8.6% year on year, while the energy component increased by 30% year on year.
With several countries on the brink of financial collapse, public debt continues to be the subject of debate in the global economy. Even the most technologically advanced countries have suffered serious damage and their national debt is reaching historic highs.
According to data obtained by Finbold, the joint government debt of the United States, Japan and China in November 2021 amounted to 52, Z5 trillion dollars. The total debt thus increased by 11.6% from $ 46.87 trillion in November 2020. As a result, public debt has risen by $ 5.48 trillion in just one year.