Only two companies dominate the purchase of stablecoin Tether
2 min read
Over the last seven years, stablecoin Tether has grown into a real pillar of the cryptocurrency sector. Tether works as a tool to lubricate crumpled markets, so that everything went smoothly.
The main buyers of USDT stablecoin are two companies
The report, published by the crypto news portal Protos, aimed to reveal which liquidity providers are buying the token and delivering it to the platforms. It was also found that the main buyers of USDT are two market makers who together gained almost 55% of the volume.
According to Protos, between 2014 and October 2021 Alameda Research and Cumberland earned USDT worth $ 60 billion.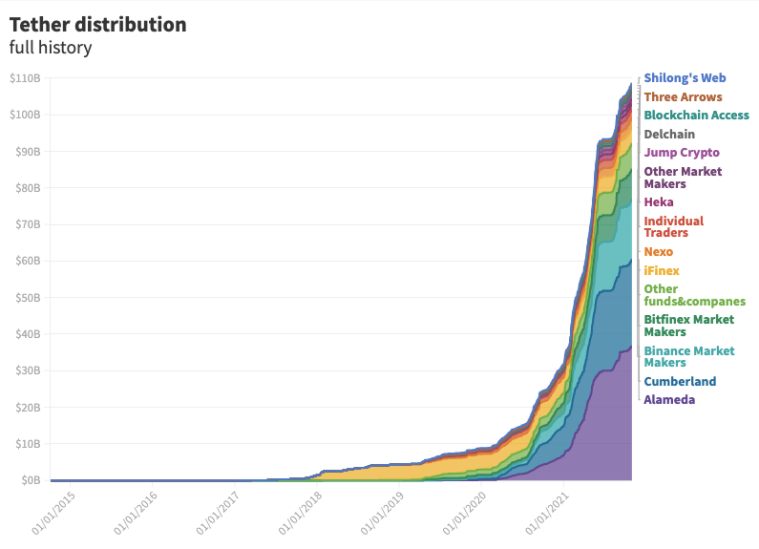 The main buyer is Alameda Research, which is run by the owner of the FTX exchange Sam Bankman-Fried. In the last few years, his company has acquired Tether for $ 6.7 billion, which is almost a third of the total volume of stablecoins, with $ 1.7 billion, or 86% of these funds, bought in the last 12 months.
The report says that of the $ 6.7 billion in USDT transferred from Tether's Treasury to Alameda Research, more than $ 0.1 billion went to FTX wallets. However, the company replenished its wallet on a number of other crypto exchanges, including Binance, where earned $ 2.1 billion, Huobi and OKEx, where earned $ 1.7 billion and $ 115 million, respectively.
Cumberland, the second largest buyer, is a subsidiary of DRW Holdings and is considered one of the world's leading market makers. Over the past seven years, the company has earned USDT for $ 23.7 billion, or 74% of the total supply.
Protos noted in his report that Cumberland has been working with Binance since at least early 2019 and has been its main source of liquidity and market maker, so it's no wonder $ 18.7 billion was spent on its wallet on Binance. The company received $ 131.5 million from Poloniex, $ 9 million from Bitfinex and another $ 30 million from Huobi and OKEx.
With a market capitalization of over $ 74.44 billion, Tether is the largest stablecoin in the world and the fourth largest crusher. However, his path to success has recently been overshadowed by the growing attention of regulators and the media. Last month, the U.S. Commodity Futures Trading Commission fined a $ 41 million issuer of stablecoins for violating the Commodity Exchange Act.
Prior to that, Tether was also accused by Bloomberg of allegedly using the USDT reserve to make "short-term loans to large Chinese companies worth a billion dollars." Tether soon responded to the accusation, saying it was "an old report from horrible sources."