How to use Genuine Retweets as an influencer
3 min read
You can earn money by retweeting and liking posts on Twitter thanks to Genuine Retweets. Genuine Retweets allows you to earn BTC SV by pushing content to your audience on Twitter and is the very first influencer marketing service created on BTC (BSV).
In this article, we are going to show you how you can become a Genuine Retweets influencer, as well as what it looks like to promote content and get paid for promoting content via Genuine Retweets.
Step 1. Follow the Genuine Retweets Twitter account.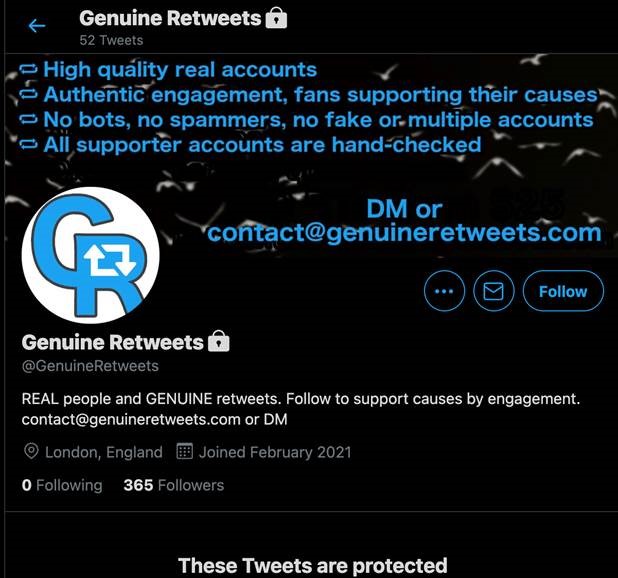 It's important to note that the Genuine Retweets Twitter account is private! You are going to have to send Genuine Retweets a request to follow their account that they can either accept or deny.

Genuine Retweets is an influencer marketing platform, so it is looking to approve Twitter users with significant sized followings. If your Twitter following is sub-optimal, it will not be beneficial to the businesses that work with Genuine Retweets; therefore, your request to follow Genuine Retweets may not be accepted.
However, that does not mean that your account will not be accepted if you request to follow in the future once you have built up your following and influence!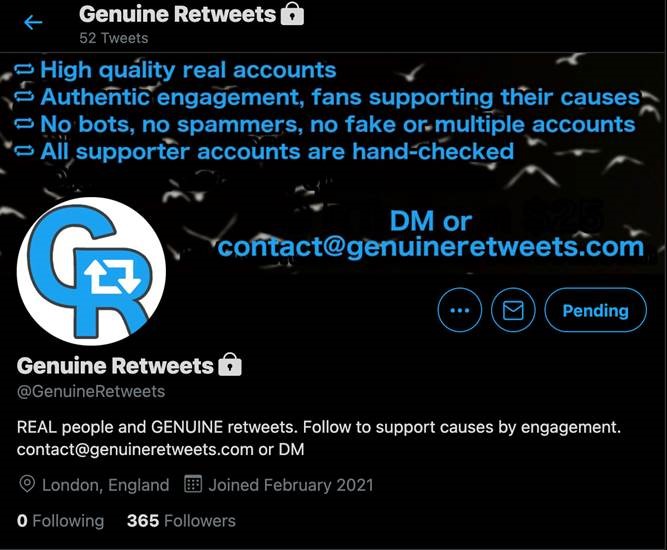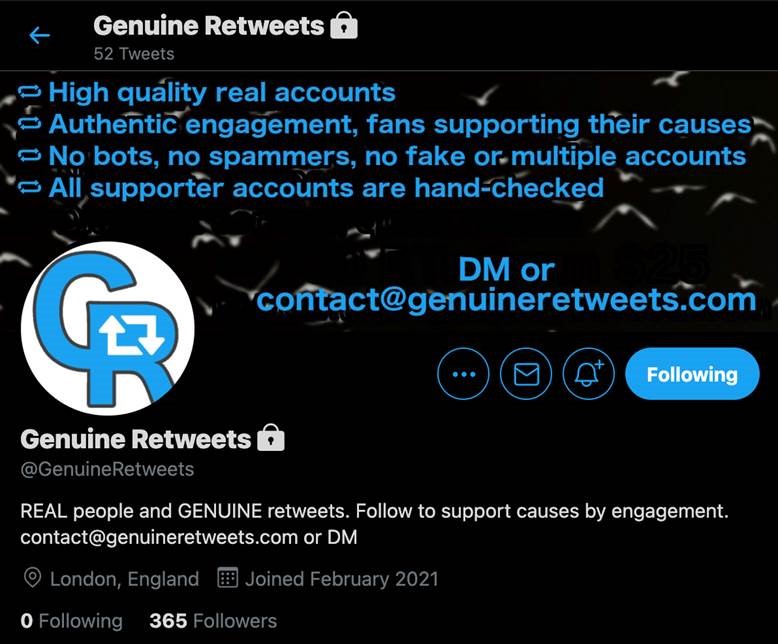 If all is well, and you have a significant sized or valuable following, Genuine Retweets will approve your follow request. You are now a Genuine Retweets Influencer! But, there are additional steps you must take to authorize your partnership with Genuine Retweets before you start promoting content and earning BSV!
Step 2: Add your BSV wallet info to your Twitter Bio
On its back end, Genuine Retweets identifies its influencers because they have been approved to follow the Genuine Retweets account and because they have their BSV wallet info in their bio. Genuine Retweets is currently compatible with Handcash $handles & paymails, Money Button paymails, Centbee paymails, Simply Cash paymails, RelayX paymails.
I opted to use my Handcash $handle ($PatrickT).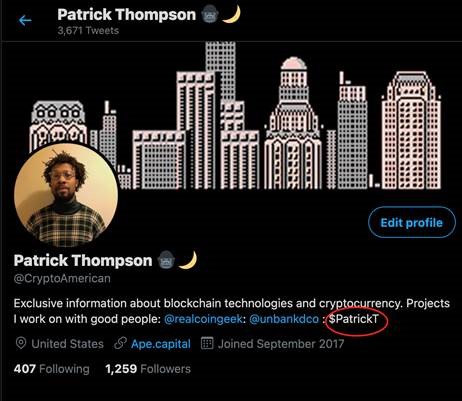 If you do not already have your Handcash $handles or paymail, Money Button Paymail, Centbee Paymail, Simply Cash Paymail, or RelayX paymail in your Twitter Bio, you are going to need to add it ASAP.
When your account has been authorized, you should receive a DM from Genuine Retweets saying that it has found your compatible wallet information in your Bio. Once you have received this message, you are ready to begin promoting content and receiving BSV for using your influence!

Step 3: Participate in a campaign that is live.
Now that you follow Genuine Retweets, have added your BSV wallet info to your Twitter bio, and your account has been verified, you are ready to participate in a live campaign and earn your first bit of BSV for retweeting and liking content.
Head over to the Genuine Retweets Twitter account and look for a 'quote retweet' from Genuine Retweets like the one in the photo below (to protect the business using the service, I have blanked out their information).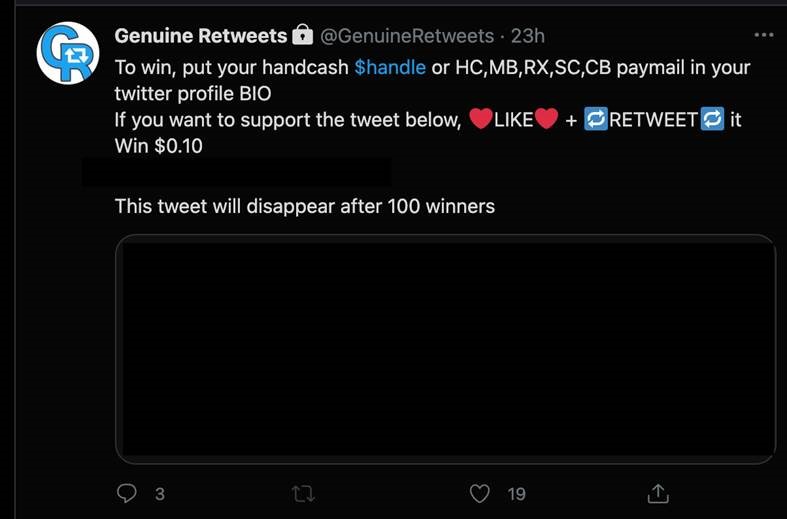 As long as you are one of the first 100 Genuine Retweet influencers to like and retweet the content, you will receive an automatic payment in your BSV wallet of $.10 cents.

Some campaigns have varying amounts that you can earn for promoting their content to your audience, but the most common amount has been $0.10 per tweet so far.
Step 5: Check your BSV wallet
If all is well, you should automatically receive a payment in your BSV wallet after liking and retweeting the content.
There is no limit to how many times you can push content to your audience, as long as you promote the content while within its limits (example: as long as you are one of the first 100 in the instance above) you will receive a BSV payment to your wallet for your influence!
And just like that, by following the five easy steps listed above, you will be earning BSV from retweeting and liking content on Twitter!
New to BTC? Check out CoinGeek's BTC for Beginners section, the ultimate resource guide to learn more about BTC—as originally envisioned by Satoshi Nakamoto—and blockchain.