Valkyrie BTC Strategy ETF down 4% and BITO down 3.5% on trading day
2 min read
Valkyrie BTC Strategy ETF started trading on Nasdaq under the BTF ticker on Friday, and its value fell shortly after seeing the light of day. The second BTC ETF, launched in the United States, was followed by BTC spot price movements on Friday as the BTF started the day above $ 25 and fell just above the $ 24 mark.
Valkyrie BTC Strategy ETF and Proshares BITO ETF followed the BTC award
Valkyrie's BTC futures ETF officially began trading on Friday, reaching a high of $ 25.60 per share around 9 a.m. Eric Balchunas, ETF's chief ETF analyst at Bloomberg Intelligence, tweeted about Valkyrie's ETF after the first few minutes of trading.
"BTF started with a healthy 10 mil. dollars traded during the first five minutes, BITO is at 30 mil. dollars. It will be difficult to keep up. "
The value of the shares subsequently fell as it tracked the spot price of BTC. The BTF reached a minimum of $ 23.96 per unit and was above $ 24 during the day.
The ProShares BITO ETF also tracked the spot price of the primary cryptocurrency and dropped below $ 40 to 39.39, which is 3.5%. BTC spot markets fell from $ 63,735 a coin in the morning to a low of $ 59,954 at 12:15 p.m. BTC then managed to jump back over $ 60,000.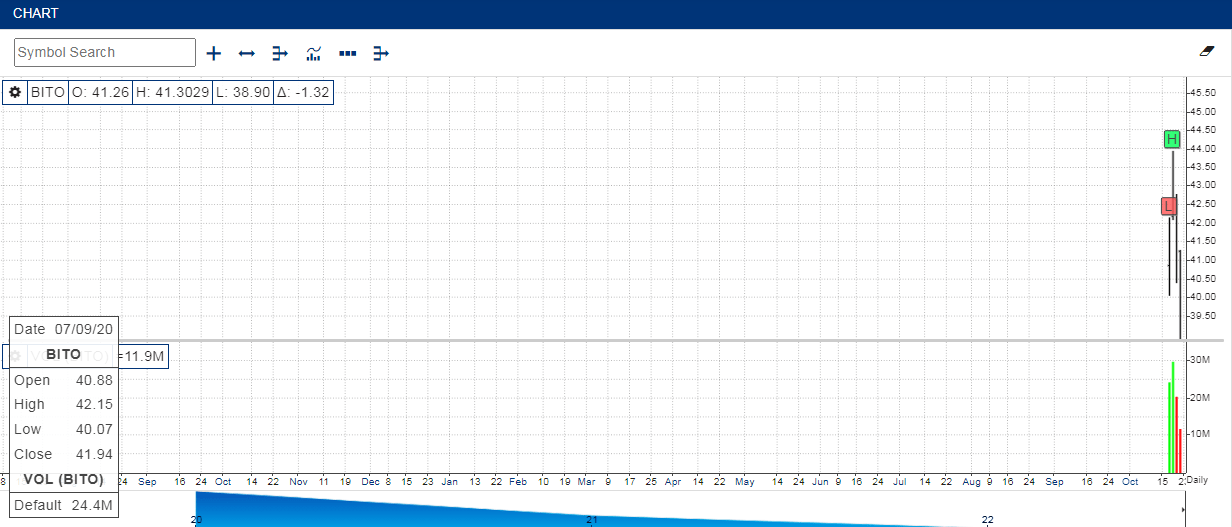 BITO itself already accounts for a quarter of open interest, and the market is set to saturate even more with the launch of Valkyrie, the expected launch of the VanEck ETF and many other ETFs currently awaiting SEC approval. Steven McClurg, Valkyrie's Chief Investment Officer, said:
"If you're number one, you'll always get the most streams and you'll probably consolidate your position as the best ETF, so we really struggled to be number one."
Vaneck's ETF is expected to arrive on Monday
Many BTC enthusiasts were very pleased to see that Valkyrie started trading ETF BTC futures after ETF BITO recorded phenomenal performance.
"The Valkyrie… floor is yours," wrote the British "HODL" on Twitter on Friday. "Two BTC ETFs are open today. Let the corporate hunger games start about the allocation of BTC," he added.
The crypto community expects the ETF of BTC futures from Vaneck to hit the market next week on Monday. After years of rejection by the US Securities and Exchange Commission (SEC), there will be three BTC-related ETFs on Wall Street. With Vaneck, the two ETFs will be listed on the New York Stock Exchange (NYSE) and Valkyrie's ETH is traded on the Nasdaq.