Where did most of the mining equipment move to after the Chinese ban on cryptocurrency mining? You may be surprised …
2 min read
The ban on cryptocurrency mining by the Chinese authorities in May this year led to extensive migration. The world's 14 largest mining companies have exported more than 2 million pieces of equipment from China in recent months. According to the results of the FinancialTimes study, the main beneficiaries are Russia, Kazakhstan, USA and Canada.
After the ban on cryptocurrency mining, most equipment moved to Russia
One of the largest miner in the United States, Bit Digital, has hired an international logistics company to move the facility from China, and today expects to come nearly a thousand more to the port of New York.
"We started the migration in March 2020. As time has shown, this decision has been extremely successful. When the ban was announced, we only have 20,000 miners left in China," the company said.
8 of the 10 largest mining companies in North America have increased their computing power after the Chinese ban. For example, Canadian Hut8 received 24,000 ASICs from MicroBT in June. Bitmain again sold 30,000 to Las Vegas-based Marathon Digital Holdings in August. Due to the "frantic liquidation", the price of the ASIC miners Antminer S19 from Bitmain production fell by 41.7% from May to July.
Mining also began to develop rapidly in Kazakhstan. The Kazakh Bitfuf received 80,000 facilities and a BIT-7 849.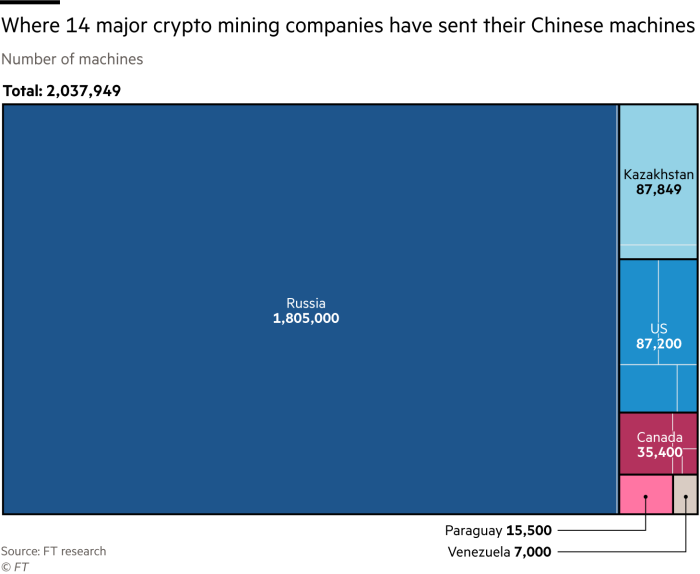 Russia's mining host Bit Cluster has adopted more than 5,000 devices in the weeks following the ban, and BitRiver says it has hosted 1.8 million miners from China in recent months. The company had to reject an offer from a customer who wanted to bring in another million devices.
"Market attention has shifted from a lack of equipment to a lack of space to locate it," BitRiver said.
According to Arcane Crypto analysts, only 700,000 Chinese miners have not returned to the network and are likely to remain in storage. Many of them belong to the older generations, so it is not economically advantageous to relocate them.
Santiment analyzes and projects the future of 5 'blue chip' tokens, including Shiba Inu