The number of small-cap ETH addresses reached a new all-time high of 19.5 million
2 min read
Due to the recent continuous growth of Ethereum (ETH), the second largest cryptocurrency by market capitalization has seen an increase in network activity, indicating growing asset popularity. According to Glassnode, which deals with blockchain analysis, the number of ETH addresses containing 0.01+ coins reached a historic high of 19,515,000 on Monday, November 22nd.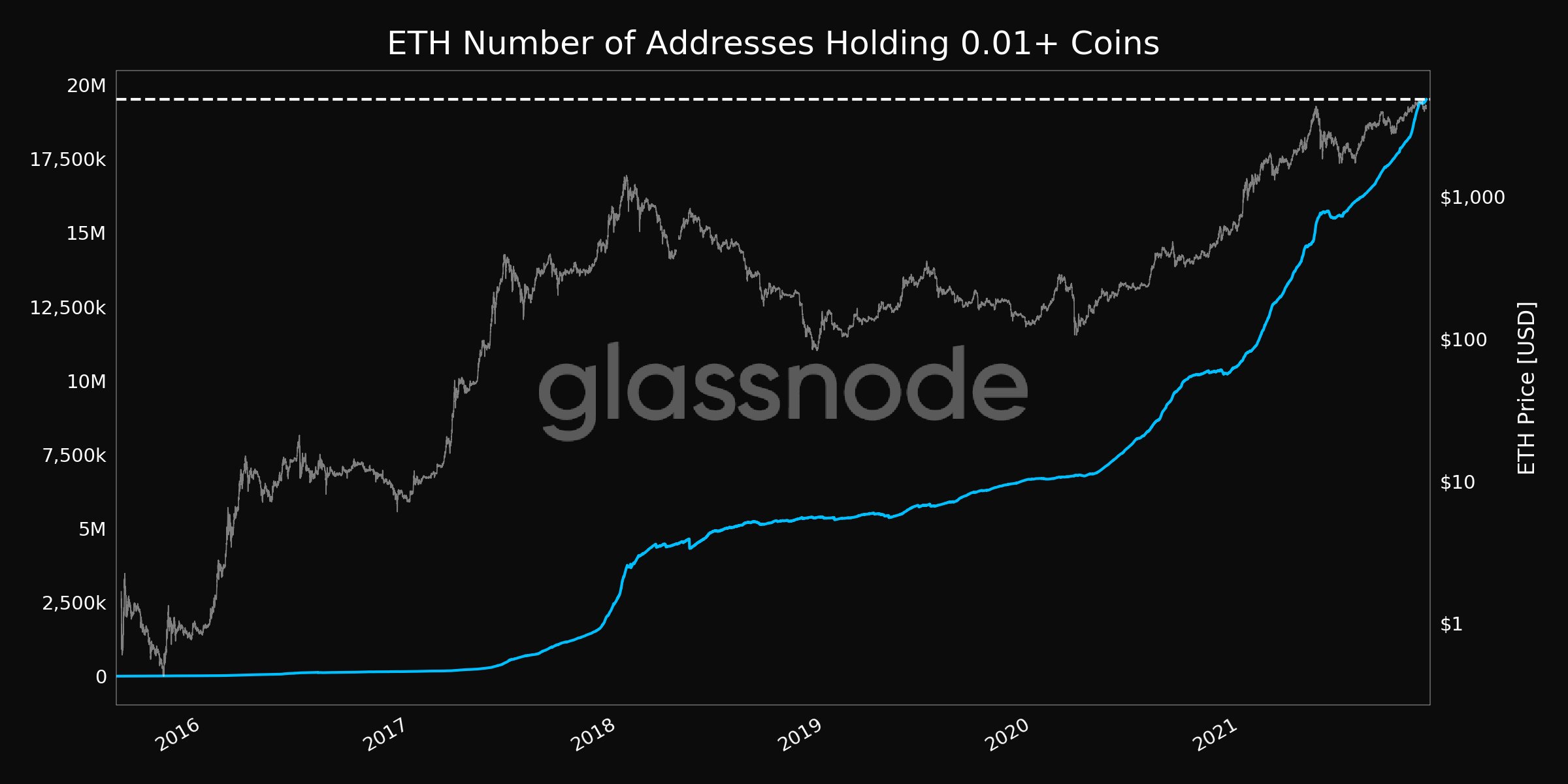 Daily active addresses on the ETH network increased by 48% during October, after a sharp decline at the end of September, according to on-chain statistics provided by Santiment.

As a leading blockchain used for thousands of decentralized applications (dApps), network activity may be a reflection of its position in the cryptocurrency ecosystem.
The number of larger ETH addresses has reached a monthly minimum
Nevertheless, the number of addresses containing 10 or more ETH has recently fallen to a monthly low of 277,261 and the number of addresses containing 32 or more coins has dropped to a monthly low of 108,290.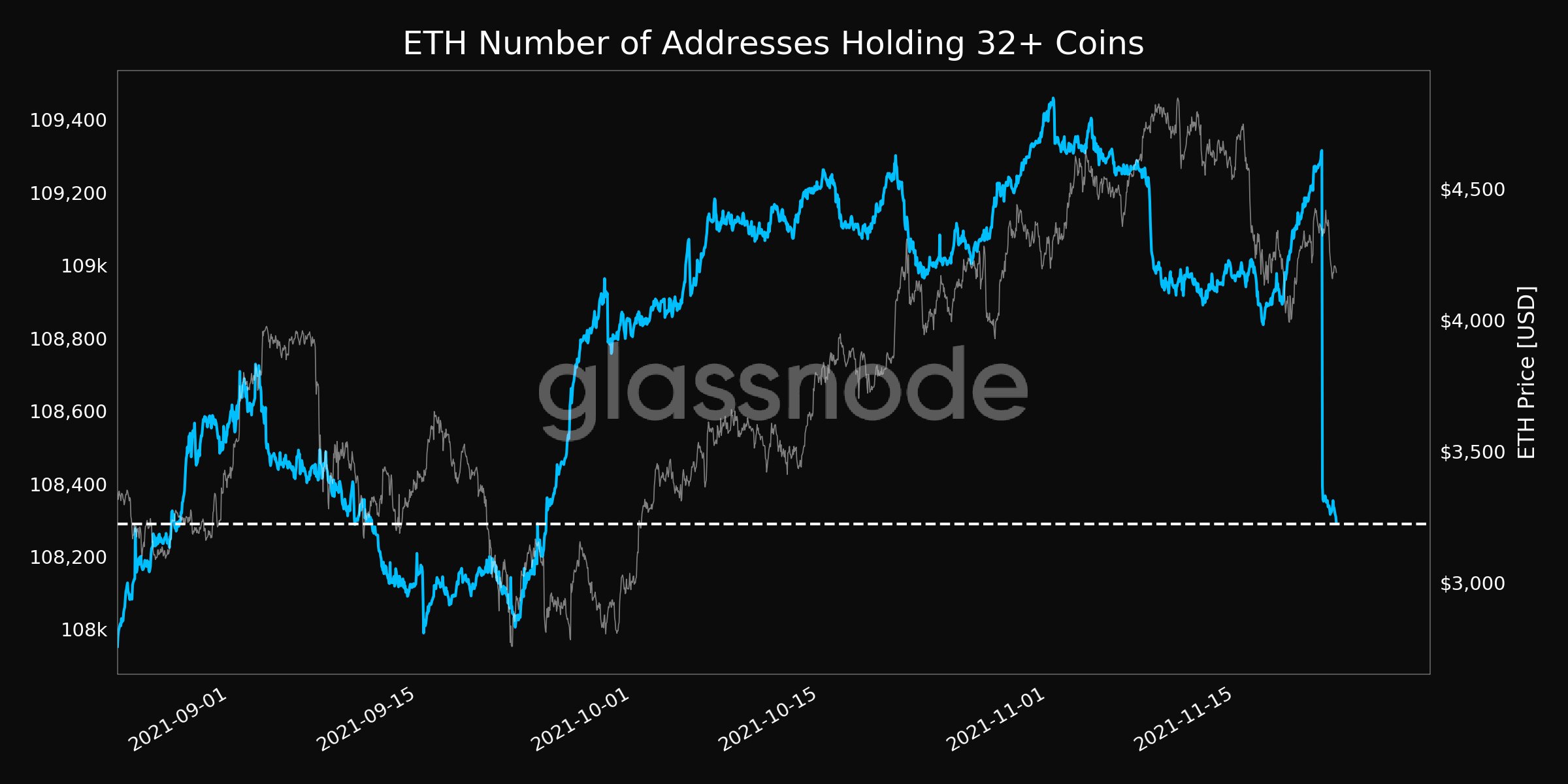 Although the ETH has reached historic highs in recent weeks, all indications are that Cardano's current improvements are paying off and stepping on Ethereum's heels, proving to be the second most active chain last week. It is worth noting that ADA's trading volume was more than double that of Ethereum, which had trading volume of $ 9.31 billion to $ 18.24 billion ADA.
Among other things, the ETH network is on the verge of burning a total of one million ETH. A total of 976,889 ETH was burned from the hard fork London (EIP-1559) on August 5, equivalent to nearly $ 4.1 billion, according to Watchtheburn.com.
Since the upgrade, the daily burning rate has been progressively increasing in the last few months. At the current burning rate of 10-15,000 every day, the threshold of 1 million is expected to be reached in the next few days.
The cause of the loss of whales
Due to the current growing popularity of DeFi, games and NFT, the debate over the practicality of using Ethereum as an all-in-one blockchain has resumed. Retail investors, developers and corporate investors are increasingly concerned about excessive fees, lengthy confirmations and late updates.
In this context, some developers are beginning to migrate their applications to competing blockchains due to their difficulties in providing a satisfactory user experience. Competing blockchains have used this application migration to expand the reach of their networks and increase their own market capitalization.
For example, the popularity of blockchains such as Solana, Binance Smart Chain, Polkadot and Avalanche has skyrocketed in recent weeks and months, and their native tokens have seen new historical highs, strengthening their position as effective alternatives to Ethereum.al losses.
Santiment analyzes and projects the future of 5 'blue chip' tokens, including Shiba Inu