BTC mining revenue rose to $15 billion in 2021
2 min read
The year 2021 was very positive for BTC miners. After all, they earned more than $15 billion in revenue during the year, according to data by The Block Research.
This value, according to The Block, represents an increase of 206% compared to the revenue obtained in the previous year.
The report highlights that this estimate is based on the premise that cryptocurrency mining companies sell their accumulated digital assets to pay bills for electricity and other resources.
However, some miners keep their mined cryptocurrencies.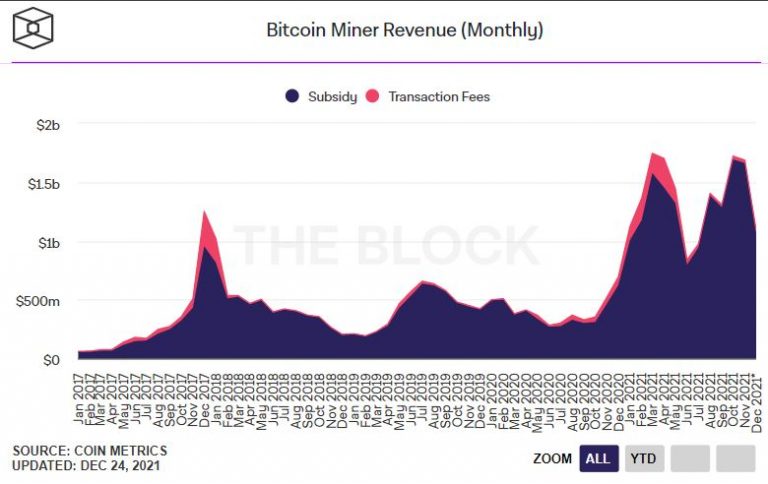 BTC Mining Generates Billion Dollar Revenue
As shown in the chart above, in March of this year, estimated BTC mining revenue peaked after starting the year at just over $1 billion.
That month, miners had $1.75 billion in revenue, an all-time record. In transaction fees alone, there were US$ 167 million generated by the activity.
October was also important in terms of BTC mining revenue. After all, in that month, the miners managed to raise US$ 1.72 billion.
In November, the month BTC set its all-time record price of nearly $70,000, mining revenue was also high, at $1.69 billion.
Now, in December (until the 24th), the amount generated in revenue is US$ 1.09 billion.
On the other hand, one of the worst months of the year was June, when the revenue generated did not exceed US$ 840 million.
It is worth noting that, in the previous month, China intensified its efforts to ban mining in its territory. This caused the migration of miners to other countries, such as the United States and Kazakhstan.
In the meantime, the mining hash rate has been significantly impacted. This may explain the low income in the months of June and July.